Philadelphia Airline & Airport Workers' Compensation Attorney
Airline and Airport Workers
Big airports are busy, bustling hubs of transportation that require a myriad of workers inside, outside, and of course, in the air to keep them running smoothly. Often operating around the clock in all types of weather conditions, airports can be a high-risk workplace. Accidents can happen in the terminal, on the apron, and in the air causing injuries from sprains and strains to more serious head and neck injuries and even death.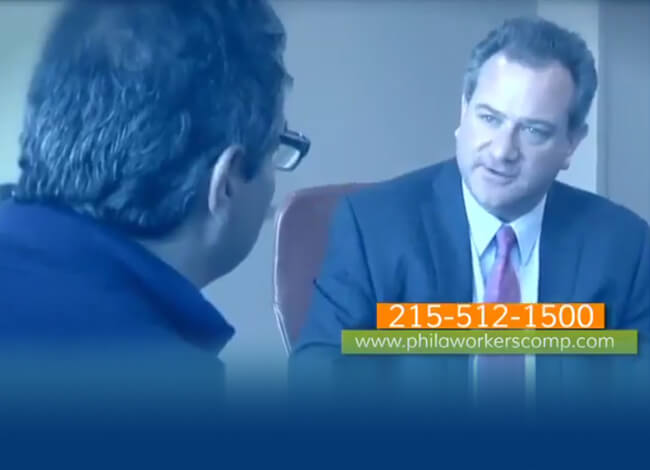 Watch our video to learn
more about our firm
Some of the workers at risk for injury include the following:
Baggage Handlers
Belt Loaders
Cleaning Crew
Catering Crew
Flight Attendants
Fuel Truck Drivers
Ground Crew
Gate Agents/Crew
Mechanics
Technicians
Injuries Suffered by Airline/Airport Workers
Carpal tunnel syndrome is a repetitive stress injury that can affect gate agents and other staff in the airport responsible for entering flight information and rebooking passengers. These workers also have the stressful job of dealing with unhappy travelers and consequently may suffer from medical conditions like hypertension, diabetes, and stroke brought on by work-related stress.
Crushing injuries, broken bones, and lacerations are just some of the injuries that wing walkers and ramp agents can experience in a struck-by accident on the airport apron.
Electrical burns, shocks, and even fatalities are possible for the mechanics and technicians servicing the aircraft and runways at an airport.
Musculoskeletal disorders (MSDs) are a common injury among airport and airline workers who lift heavy luggage and twist and bend to accomplish tasks in cramped spaces like the hold of an aircraft. Flight attendants and cleaning crews can also develop MSDs. Also known as repetitive strain injuries, these injuries include herniated discs, tendonitis, and sprains and strains.
Operating long shifts, sometimes over multiple time zones can lead to a disruption of circadian body rhythms for flight attendants leaving them with medical problems related to sleep disruption such as cardiovascular disease, gastrointestinal conditions, and chronic fatigue. Flight attendants can also develop "sick airplane syndrome" from constant exposure to the poor air quality in aircraft. They can be injured by falling baggage, or from in-flight turbulence.
Slip and falls can happen to workers inside the terminal as well as the ground crew, belt loaders, and the other workers who work outside. Typical injuries from slip and falls include broken bones, back injuries, and head and neck injuries.
Workplace violence is unfortunately a modern reality for airport and airline workers. In addition to injuries from being assaulted by passengers, these workers may experience violent acts of terrorism that leave psychological as well as physical scars.
Recovery
All employees injured at work should see a medical professional immediately and report the injury to their employer. Treatment like an operation, physical therapy, and/or psychological therapy might be needed before returning to work.
Almost all workers who suffer a work-related injury are eligible for Workers' Compensation benefits, which should help cover medical expenses including medications, hospital stays, and wages lost while they are unable to work. A qualified Workers' Compensation attorney who has experience helping injured workers can ensure that injured workers see a doctor of their choosing and receive benefits until they have recovered from their injury.
Philadelphia Workers' Compensation Lawyers of Gross & Kenny, LLP Help Injured Workers Recover Compensation
If you need help filing your Workers' Compensation claim, contact a Philadelphia Workers' Compensation lawyer of Gross & Kenny, LLP. Call 215-512-1500, or complete our online form for a free consultation.