Philadelphia Commercial Truck Driver Workers' Compensation Attorney
Commercial Truck Drivers
Work-related injuries are common among commercial truck drivers. Truck drivers rank sixth on the list of top occupations for nonfatal work-related injuries and illnesses that require days off from work. On average, commercial truck drivers are three times more likely than other U.S. workers to suffer from an injury or illness that needs time off from work for recovery. American truck drivers take a median number of 22 days off as a result of occupational injuries and illnesses.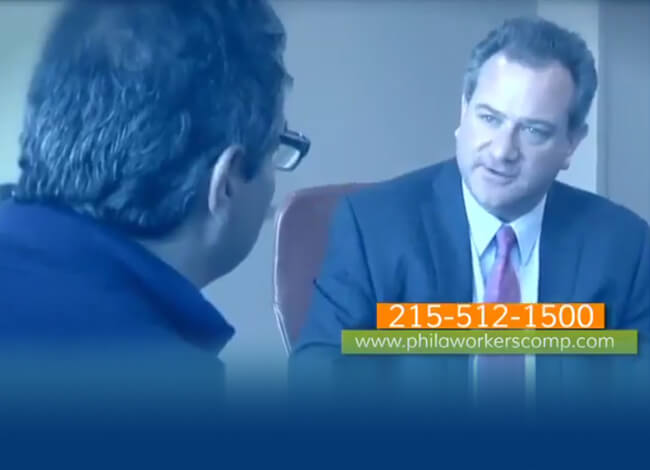 Watch our video to learn
more about our firm
Common Injuries
The most common injuries for truck drivers are sprains and strains. According to the Occupational Safety and Health Administration (OSHA) sprains and strains account for 50 percent of work-related injuries for truck drivers. Other work injuries suffered by commercial truck drivers include:
Bruises
Fractures
Lacerations and cuts
Multiple traumatic injuries
Musculoskeletal disorders
Pain and soreness
Causes of Injuries
Overexertion is the cause of many of the sprains and strains sustained by truck drivers. Assisting with the loading and unloading of cargo requires drivers to lift, push, and pull heavy containers. This can result in damage to muscles, tendons, and joints and lead to musculoskeletal disorders.
Slips, trips, and falls on warehouse loading docks or from the height of the truck cab are also common and can cause injuries ranging from fractures and lacerations to broken bones and back injuries.
Truckers also sit for extended periods of time, which increases the risk of health conditions such as high blood pressure, high blood sugar, and cardiovascular disease. Sitting for hours can also cause neck and back problems. Vibrations from the truck can cause repetitive stress injuries as can the continual use of the muscles in the hand using the gearshift, or the foot used to pedal.
Struck by accidents can cause injuries to the head or feet. Cargo can shift and fall during loading and unloading resulting in serious injuries that require time off from work to recover.
Vehicle accidents are very dangerous for commercial truck drivers, especially if they are transporting hazardous materials. Due to the size and weight of the average tractor-trailer, a truck accident can be a catastrophic event inflicting life-changing spinal cord or traumatic brain injuries on the driver. These types of injuries generally result in long hospital stays and extended rehabilitation periods.
Employer Responsibility
All employers have a responsibility to ensure the safety of their workers. This means adhering to the regulations governing Hours of Service so that drivers are well-rested and not fighting fatigue. Regular equipment maintenance is also key to preventing truck accidents. Some companies run health and wellness programs to monitor the health of their drivers.
Workers' Compensation Claims
Commercial truck drivers who have injuries from a work-related accident are advised to seek qualified legal counsel when filing a claim for Workers' Compensation. Seeking compensation for an injury is very different for a driver than the average worker due to the nature of their job. Being on the road constantly makes it hard to see a doctor and receive reimbursement for treatment. Calculating wages and pay for work missed due to injury and illness can be difficult when paid by the mile.
Philadelphia Workers' Compensation Lawyers of Gross & Kenny, LLP Represent Workers Injured on the Job
If you or someone you love has been injured on the job, contact a Philadelphia Workers' Compensation lawyers of Gross & Kenny, LLP. Call 215-512-1500 or complete our online form to schedule an initial consultation. Our offices are located in Philadelphia, allowing us to serve Pennsylvania and New Jersey.