Philadelphia Police Officer Injury Workers' Compensation Attorney
Police Officers
The risks that police officers face every day as they go out to perform their job duties are well known. The Bureau of Labor Statistics reports that the rate of both fatal and non-fatal injuries to police officers in 2014 was approximately four times that of all other occupations.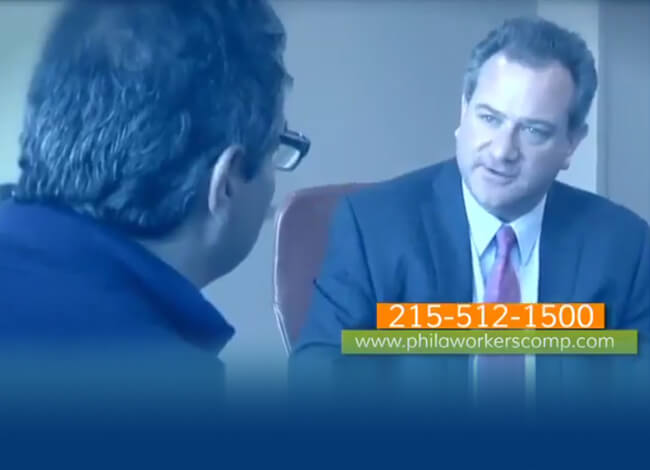 Watch our video to learn
more about our firm
Causes of injury to police officers can range from slip and falls in the office or during training, to collisions, car accidents, and physical assault. Police officers are regularly called to investigate domestic violence and shootings, or to serve warrants to criminals. They can be struck by traffic when stopping drivers for a violation or assaulted when they encounter someone who is trying to evade arrest. This high-stress job can also lead to injuries that are non-physical like post-traumatic stress disorder (PTSD).
Compensation for Injured Police Officers
In Pennsylvania, police officers who are injured on the job have access to several different benefits. As with other injured workers, they are eligible for Workers' Compensation, but they also may receive payments under the Pennsylvania Heart and Lung Act, which provides full, tax-free compensation to temporarily disabled police officers and firefighters. Officers who have been permanently disabled and can no longer work are eligible for disability benefits under the federal Public Safety Officers' Benefits (PSOB) Act.
For police officers who are fatally injured in the line of duty, there are several benefits available to surviving dependents, including:
Death benefits from Workers' Compensation, PSOB, Social Security, and the Pennsylvania Act 101.
Funeral costs
Educational assistance through the Pennsylvania Higher Education Assistance Agency for children of police officers who reside in Pennsylvania and are aged 25 years and younger. This benefit provides full tuition to Pennsylvania community colleges, state-owned universities, and state-related colleges and universities.
Why Use a Workers' Compensation Lawyer?
Pennsylvania Workers' Compensation provides those who have suffered a work-related injury with medical benefits, wage loss benefits, temporary or permanent disability benefits, and job training assistance if needed. Police officers are entitled to the same kind of Workers' Compensation benefits as other workers but proving occupational illnesses such as PTSD can be difficult. First responders, such as law enforcement, are routinely exposed to traumatic events more than regular workers and are held to a higher standard when trying to recover compensation. An experienced Workers' Compensation lawyer can assist you in building a successful case and ensure you receive the maximum allowable benefits for your case, whether they are state or federal benefits. By working with a knowledgeable lawyer, you can be sure you will not forfeit your right to benefits through administrative mistakes.
Other reasons Workers' Compensation claims for police officers are denied include:
Missing deadlines to file a claim
Failing to report an injury
Getting treated for an injury but failing to tell the doctor the injury was work-related
Errors on the claim form
The Workers' Compensation claim conflicted with a claim for other benefits such as Heart and Lung Act benefits
Philadelphia Workers' Compensation Lawyers of Gross & Kenny, LLP Advocate for Injured Police Officers
Police officers are routinely injured in the line of duty and yet insurers will try to deny their claims for Workers' Compensation. If you are a police officer who has suffered a work injury, contact an experienced Philadelphia Workers' Compensation lawyer of Gross & Kenny, LLP, who will evaluate your claim and make sure you receive the maximum allowable compensation for your case. Call 215-512-1500 today or contact us online. Our office is conveniently located in Philadelphia, Pennsylvania, and we serve injured clients throughout the surrounding areas.