Philadelphia Work Related Back Injury Attorney
Back Injuries
Back injuries such as herniated discs are the most common cause of work-related disability. Unfortunately, many workers don't receive the benefits they need because their Workers' Compensation insurance carrier or employer has mischaracterized the injury as a less serious back sprain or strain.
Don't be fooled, as many injured workers are, into simply accepting a diagnosis of your back injury that does not seem right and which may ultimately jeopardize your eligibility for Workers' Compensation benefits. Philadelphia work injury lawyers, Jeffrey S. Gross and Patrick W. Kenny have focused exclusively on representing injured Pennsylvania workers for more than 20 years. If you have suffered a back injury on the job, we offer a free initial consultation to discuss your case.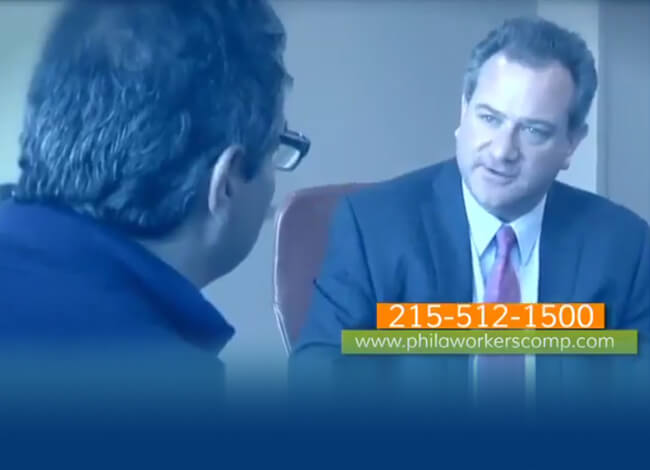 Watch our video to learn
more about our firm
Some serious back injuries our lawyers are familiar with include:
Aggravation of pre-existing back conditions
Bulging or protruding discs
Dislocated vertebrae
Herniated discs
Nerve impingement
Spinal cord injuries and paralysis
Protecting Your Rights After A Serious Back Injury
Back injuries can occur over time or from a single traumatic event. As long as the injury occurred on the job or was aggravated by your work activities, it is covered by Workers' Compensation.
It's important to seek legal advice as soon as you are aware of a back injury that is work-related. Our lawyers will manage every step of the Workers' Compensation process for you: filing paperwork, scheduling medical appointments, consulting with medical experts, and negotiating on your behalf in order to make sure that you receive the care and benefits you need. We represent clients whose injuries necessitate back fusion surgery, laminectomy surgery, discectomy surgery, and other back surgeries.
If your insurance company misdiagnoses your injury as a less serious strain or sprain, it may try to stop your treatment or benefits by claiming that the treatment you need is not related to a sprain or strain or your original injury has been resolved. If this has happened to you, our lawyers can act quickly to file a petition to change the accepted injury due to an incorrect description of that injury.