Philadelphia Work Related Carpal Tunnel Syndrome Attorney
Carpal Tunnel Syndrome
Carpal tunnel syndrome can make it impossible to perform your job without symptoms such as tingling, numbness, and sharp pains in your hand, wrist, and arm. Unfortunately, employers often refuse to pay workers' compensation benefits for repetitive stress injuries such as carpal tunnel syndrome or end those benefits before the worker's injury has healed.
Philadelphia work injury lawyers, Jeffrey S. Gross and Patrick W. Kenny have focused exclusively on representing injured Pennsylvania workers for more than 20 years. We offer a free initial consultation to discuss your work injury case.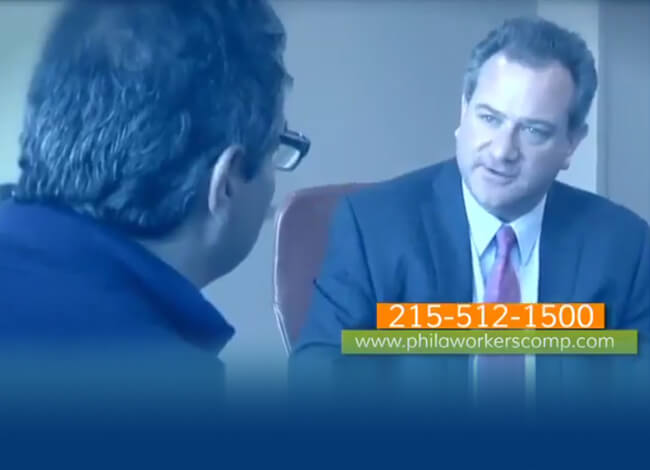 Watch our video to learn
more about our firm
Workers' Compensation and Carpal Tunnel Syndrome
Carpal tunnel syndrome may be caused or exacerbated by repetitive work activities such as typing or assembly line work. Even if the injury is due to a pre-existing condition, it is covered by workers' compensation if it was aggravated by your work activities.
Doctors often treat carpal tunnel syndrome conservatively. Initial treatment usually involves the use of anti-inflammatory drugs and resting the affected hand and wrist. If the condition does not improve, doctors may recommend surgery to remove pressure on the median nerve.
If you suffer from work-related carpal tunnel syndrome, employers, and workers' compensation insurance carriers may use a variety of tactics to avoid paying the benefits you deserve. For example, an employer may claim:
You are not really injured
Your injury is not work-related
You are well enough to return to work
It often takes a lawyer's help to receive the benefits you deserve. It is important to speak with an attorney as soon as you learn of your work injury.
Contact Philadelphia workers' compensation lawyers of Gross & Kenny, LLP if You Suffer from Work-Related Carpal Tunnel Syndrome
If you have questions about carpal tunnel syndrome and the benefits available to you under the Pennsylvania workers' compensation Act, call Philadelphia work injury lawyers of Gross & Kenny, LLP, at 215-512-1500 or complete our online contact form.