Philadelphia Hand and Wrist Injury Attorney
Hand and Wrist Injuries
Nearly every job requires an employee to use his or her hands. That is why the U.S. Bureau of Labor Statistics (BLS) maintains that hand and wrist injuries are the second-leading source of claims for workers' compensation benefits. From clerical work to construction work, no employee is immune to the risk of a hand or wrist injury.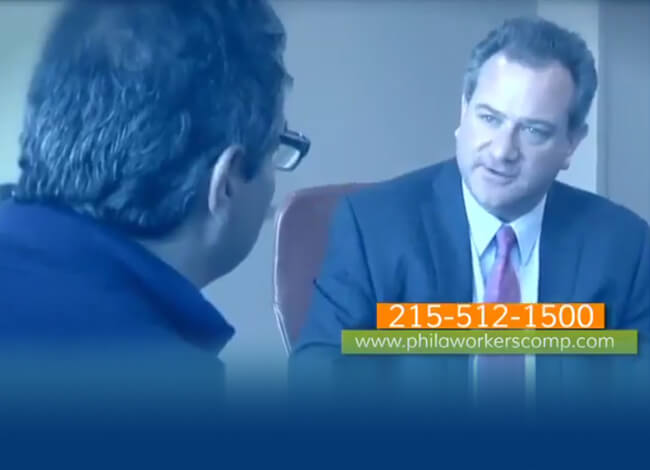 Watch our video to learn
more about our firm
The hand and wrist injuries that most often form the basis of a successful workers' compensation claim include:
Do Not Ignore a Hand or Wrist Injury
Regardless of whether a hand or wrist injury occurs suddenly or develops gradually over time, employees should assert their right to workers' compensation benefits as soon as their injury becomes apparent. According to the Journal of Bone and Joint Surgery, hand and wrist injuries are particularly pricey for employers, accounting for up to 56% of total production costs. Employers can also expect to pay a premium in indirect costs, including the costs associated with training temporary replacement workers and repairing damaged equipment that caused the hand or wrist injury in question.
An employee who suffers a hand or wrist injury due to an unsafe work environment or negligence by an employer bears an even greater responsibility to file a workers compensation claim. Not only will the successful pursuit of workers' compensation benefits provide partial pay and medical coverage while the injured employee recovers, but it will also serve as a powerful incentive for an employer to take steps to ensure worker safety going forward.
Philadelphia Workers' Compensation Lawyers of Gross & Kenny, LLP Obtain Compensation for Workers Suffering From a Hand or Wrist Injury
Philadelphia workers' compensation lawyers of Gross & Kenny, LLP, are well-versed in work-related injuries of the hand and wrist. If you recently suffered an acute hand or wrist injury on the job or suspect a developing hand or wrist injury, contact us at 215-512-1500, or complete our online form to schedule a free initial consultation at our Philadelphia offices.