Philadelphia Psychological and Emotional Injury Attorney
Psychological and Emotional Injuries From Work
In recent decades, mental illnesses and mental injuries have finally gained widespread acceptance in the medical community as legitimate, formidable barriers to work. As a result, people who suffer from a mental disability directly related to their job face fewer barriers in obtaining workers' compensation benefits than ever before. However, even with the shift toward acceptance of these kinds of injuries or conditions, it can still be difficult to obtain workers' compensation benefits for a mental disability.
For the help you need in getting and keeping the workers' compensation benefits you deserve, contact our experienced lawyers in Philadelphia, Pennsylvania, today for your free consultation.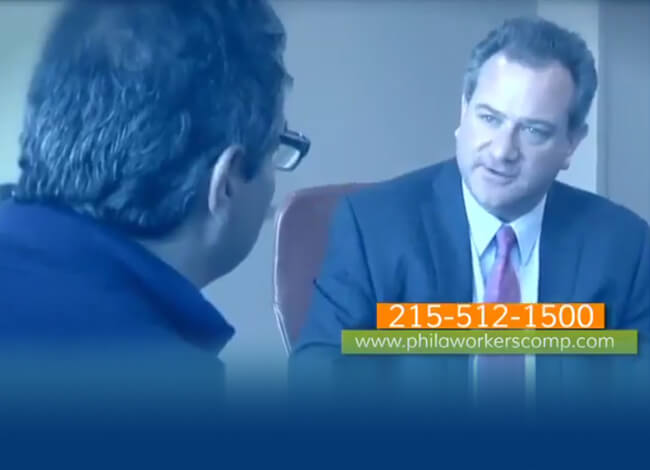 Watch our video to learn
more about our firm
Jeffrey S. Gross along with Patrick W. Kenny and our firm's associate work injury lawyers have focused on representing injured Pennsylvania workers for more than 17 years. In that time, we have been able to help countless numbers of individuals with work-related mental disabilities to secure the benefits they deserved. As your lawyers, we will concentrate on taking care of all the details involving the paperwork, the scheduling of medical appointments, and the proper documentation of everything so that you will be free to concentrate on your own health and recovery.
Based on cause and effect, mental disabilities have been divided into three different types. A brief explanation of each one is provided below:
Physical-mental disability claims – This is when injured workers develop depression, anxiety disorders, or other mental conditions that arise out of a work-related physical injury such as a disabling back condition that causes major depression.
Mental-physical disability claims – These claims involve a mental stimulus at work that causes a physical injury. An example could be when a worker is held up at gunpoint while working and suffers a heart attack as a result of the stress he or she experienced from the hold up.
Mental-mental disability claims – These claims involve situations where a mental stimulus at work causes a mental injury. An example of a mental-mental claim might involve a situation like the above scenario where a worker is held up at gunpoint while working, and, as a result, he or she is prevented from returning to work because of post-traumatic stress syndrome.
Call Workers' Compensation Lawyers in Philadelphia of Gross & Kenny, LLP
Talk to our Philadelphia workers' compensation lawyers about your mental disability claim. At Gross & Kenny, LLP, we are here to help. We will identify the type of mental injury that you have and make sure that your claim is properly handled.
For your free consultation, call us at 215-512-1500 or complete our online contact form page. Our offices are located in Center City, Philadelphia, but we also make appointments in other mutually convenient locations in downtown Philadelphia is not convenient for you.