Philadelphia Shoulder and Rotator Cuff Injury Attorney
Shoulder and Rotator Cuff Injuries
Jeffrey S. Gross and Patrick W. Kenny, along with their associates help clients who have suffered work shoulder injuries and rotator cuff injuries seek the workers' compensation benefits they deserve.
We are a highly experienced team of Philadelphia shoulder and rotator cuff injury attorneys who understand effective ways to maximize compensation for clients who have suffered sudden on-the-job injuries, as well as those whose conditions have experienced a worsening condition due to repetitive motion.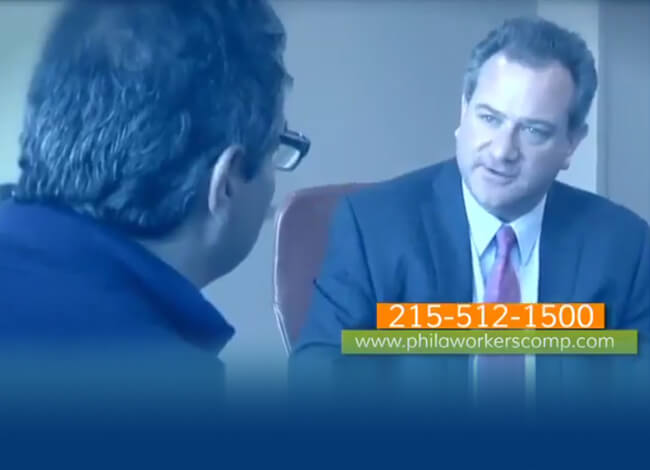 Watch our video to learn
more about our firm
Shoulder Injuries
Shoulder injuries can occur as the result of a lifting accident, reaching accident, work-related motor vehicle accident, or repetitive use. If you have suffered a shoulder dislocation, torn rotator cuff, tendon tears, or another shoulder injury requiring partial or total shoulder replacement, we can help. We will help you seek the workers' compensation benefits you are entitled to cover your current and long-term medical expenses, as well as lost wages, permanent or partial disability, and more.
Rotator Cuff Injuries
The rotator cuff comprises muscles and tendons that connect the upper arm to the shoulder blade, enabling arm movement. Rotator cuff injuries can be caused by trauma or repetitive use. A rotator cuff injury can be extremely painful and disabling, resulting in shoulder weakness and loss of range of motion. It is important to work with an experienced workers' compensation attorney if you have suffered a rotator cuff injury. The insurance company may try to establish that the injury was caused over time and not due to a workplace accident.
When Will You Qualify for Workers' Comp for a Philadelphia Shoulder or Rotator Cuff Injury?
Rotator cuff and shoulder injuries caused by the conditions of your work environment are unacceptable. Fortunately, you may be entitled to workers' comp benefits for your Philadelphia rotator cuff or shoulder injury.
The vast majority of employers across the state of Pennsylvania are required to provide their employees with work comp coverage from the first day of their employment. Part-time and full-time employees are covered. The only other requirement that you'll need to meet in order to be eligible for work comp coverage for a shoulder or a rotator cuff injury in Philadelphia is that the injury must have occurred through the scope of your employment.
For example, if you were seriously injured in a car accident driving on your way home from work, you would not be entitled to work comp benefits. However, if you are a professional driver and are seriously injured in a car accident while on the job, you would be eligible for benefits.
It is not unusual for people who have suffered shoulder and rotator cuff injuries to be unsure whether they qualify for work comp benefits. Contact a seasoned Philadelphia shoulder and rotator cuff injury lawyer today to find out what your legal options for financial recovery are.
What Do Pennsylvania Workers' Comp Benefits Consist Of?
Unfortunately, work comp benefits for a Philadelphia rotator cuff or shoulder injury are not likely to be the solution you were hoping for. However, these benefits could go a long way in helping you continue to support yourself while you are temporarily unable to work.
With that being said, if you are awarded work comp benefits, you can expect to collect disability benefits soon after approval. The amount of these benefits will be based upon your average weekly wages and usually consists of approximately sixty-six percent of that. You can expect to be able to collect these benefits until your physician deems you able to return to your previous position.
Additionally, your employer's work comp insurance provider will also be required to cover the medical costs of your rotator cuff or shoulder injury. This might include any surgeries, prescription medication, equipment, rehabilitation services, and other medical care you might need relating to your work injuries both now and in the future.
You might be wondering what you will do if your injuries are so severe that they prohibit you from being able to return to your line of work. In case it's like these, your employer's work comp insurance provider will also be obligated to provide you with vocational rehabilitation benefits. These benefits are meant to cover the cost of job training or education you might need in order to enter the workforce in another industry.
For more information about the workers' comp benefits that you could expect to collect for your rotator cuff or shoulder injury, contact our office.
Experienced Workers' Compensation Lawyers Work For You
Attorneys Jeffrey S. Gross and Patrick W. Kenny have more than 20 years of experience helping injured workers. Along with our skilled associate attorneys, our team is prepared to handle every aspect of your workers' comp claim. We can help you find the right doctor, file paperwork, and negotiate on your behalf to ensure that you get the best care possible. Our firm focuses exclusively on representing workers who have been injured on the job.
Contact A Philadelphia Workers' Compensation Lawyer of Gross & Kenny, LLP Today
For answers to your questions about recovering compensation after a work shoulder injury, contact us online or call a workers' compensation lawyer in Philadelphia of Gross & Kenny, LLP, today. Call 215-512-1500 to schedule a free appointment. Or fill out our online contact form and we will reach out to you to learn more about the details of your work injury.