Pennsylvania Workers' Compensation Petitions
workers' compensation is not what injured workers would call "a user-friendly system." Its rules are technical and complex; its procedures and all of its various petitions are confusing. It is especially difficult for people who are injured and preoccupied with just holding their lives together until they can get help to navigate this complex and convoluted system. We know how difficult the system is because we have been helping injured workers for more than two decades.
Attorneys Jeffrey S. Gross and Patrick W. Kenny, along with our experienced associates have a comprehensive knowledge and understanding of Pennsylvania's workers' compensation system, including all of its various petitions and the mediation requirements of each.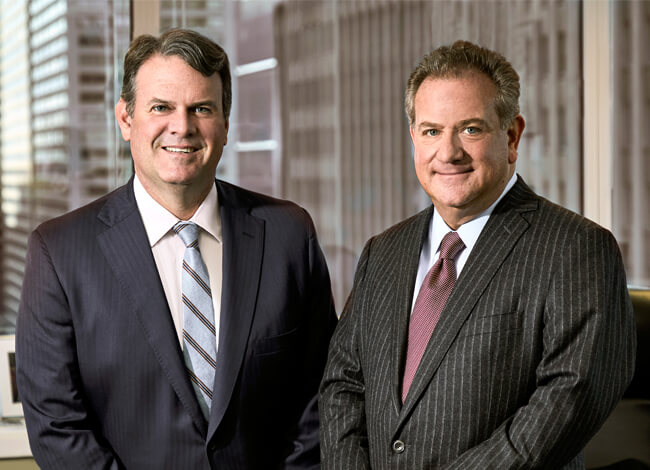 Watch our video to learn
more about our firm
Experienced Philadelphia Claim Petition Lawyers
Under the law, an Employer/Insurer of an injured worker only has 21 days to accept or deny the claim following being placed on notice of a work-related injury. This decision will come either in the form of a Notice of Compensation Payable or a Notice of Compensation Denial. In either case, it is likely that the injured worker will be required to undergo an "independent" medical examination (IME) with a doctor of their employer's choosing.
If an employer has denied workers compensation to an injured worker, that injured employee is required to file a claim petition with the Bureau of workers' compensation in Harrisburg, Pennsylvania, in order to obtain benefits. Because it can take a long time before the process is complete, it is important to file a claim petition as soon as possible.
If your claim has been denied or you are not receiving workers' compensation benefits and you think that you deserve benefits, please contact us immediately to review your claim and begin the process of securing benefits for you.
Petitions To Modify, Suspend Or Terminate
Employers and insurance companies have three primary types of petitions at their disposal. A Termination Petition is filed when your employer or their insurer believes that you have fully recovered from your work-related injuries and that you can return to work without restrictions. This petition requires medical evidence supporting that position and if successful, will cause your benefits to be stopped.
The second type, a Suspension Petition, is used to stop an injured workers' compensation wage loss benefits only. Medical benefits continue in the event of a suspension of benefits. For example, if you have returned to work in a light-duty job but are making the same amount of money as you were at the time of the work-related accident, your employer/insurer will file a suspension petition. If you have returned to work as a result of a request by your employer, but cannot perform the requirements of the job, contact us immediately at 215-512-1500 to discuss your situation.
The Employer is required to have you sign a form called a Supplemental Agreement or file a Notice of Suspension at the time you return to work. It is important not to sign anything unless and until you speak to an attorney who can explain your rights to you.
If you have received a Notification of Suspension form or a Supplemental Agreement to sign, please contact us immediately at 215-512-1500 so that we may protect your rights under the workers' compensation act. We can challenge an improper notification of suspension as long as it is within 21 days of its filing with the Bureau of workers' compensation.
A modification petition is the third type of petition that Employers generally file and is done when you have either returned to work in some earning capacity, but are earning less than what you had before, OR if your employer has had you undergo a vocational interview, has performed a labor market survey and alleges that there is work generally available within your medical restrictions in your geographical area. If successful, wage loss benefits will shift from being based on your previous average weekly wage to being based on the difference between your current and previous wages. Your benefits may also be stopped completely.
If you receive a request to have a vocational interview from your employer or its insurance company, or if you have received a modification petition, please contact us immediately at 215-512-1500 to learn what you should do and how to protect your workers' compensation benefits.
Contact the Philadelphia Workers' Compensation Lawyers of Gross & Kenny, LLP
For more information on workers' compensation petitions and a free consultation, call Philadelphia workers' compensation lawyers of Gross & Kenny, LLP, at 215-512-1500 or contact us online.