Pennsylvania Workers' Compensation Hearings
The workers' compensation process in Pennsylvania is not "user friendly." Injured workers are often confused and overwhelmed by requirements, filing deadlines, and complex rules they are expected to abide by. Even the smallest mistake throughout the process can cause immense damage in the form of reduced benefits or even a denial of needed benefits.
Jeffrey S. Gross and Patrick W. Kenny, along with their team of experienced attorneys have a comprehensive knowledge of all aspects of the workers' compensation process. From filing the correct petitions to ensuring you are fully prepared for your workers' compensation hearings, we will handle everything so you can focus on recovering from your work-related injury.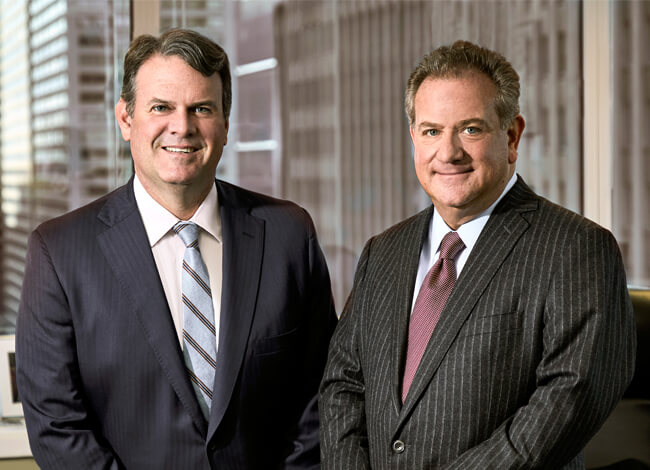 Watch our video to learn
more about our firm
Philadelphia Workers' Compensation Claim Lawyers
Workers' compensation hearings are an area where our commitment to client service is a tremendous asset. Large workers' compensation "mills" run the risk of losing track of the scheduling order and important deadlines. Our attorneys work directly with injured workers to prepare them for all aspects of the hearing.
We will prepare you for your testimony and make sure that we are bringing the strongest possible claim on your behalf, backed by exceptional evidence that is often obtained through collaboration with professional experts.
Our team is made up of knowledgeable attorneys who are also strong negotiators. This is advantageous to our clients as workers' compensation cases are bound to the scheduled mediation. We are led by Jeffrey S. Gross, a certified specialist* with more than two decades of hearing and mediation experience. We are thoroughly familiar with all the judges in Philadelphia and surrounding counties, as well as their respective procedures.
As your workers' compensation hearing approaches, you need an experienced advocate on your side. Call 215-512-1500, or contact us online today for a free, confidential consultation with a Philadelphia workers' compensation lawyer of Gross & Kenny, LLP.