Philadelphia Warehouse Workers' Compensation Attorney
Warehouse Workers
Nearly every type of retailer and manufacturer uses warehouses for the storage of goods. Import/export businesses and transport companies all maintain warehouses to store commodities and raw materials. Workers are needed to load and unload these various materials from incoming trucks onto pallets and forklifts.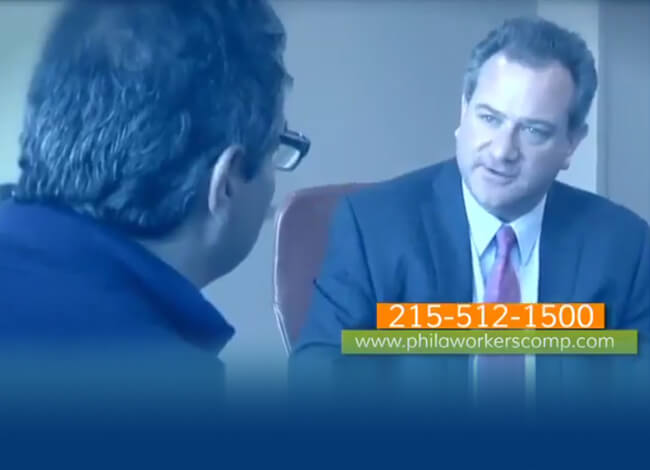 Watch our video to learn
more about our firm
Warehouse workers are exposed to a number of hazards on a daily basis that can cause serious injuries or even fatalities. Some of these hazards include:
Being struck by falling unsecured goods
Being struck by trucks in the loading/unloading area
Slip and falls
Overexertion
The collapse of pallet rack systems
Chemical hazards
Electrical hazards
Lack of or failure to wear personal protective equipment
Forklift Accidents
The use of forklifts is essential for the work being done in a warehouse. If they are not properly used and maintained, accidents can happen, and workers can get seriously hurt. Overloading a forklift can cause it to tip over and crush the operator and/or nearby workers. Employers must train operators, who should be at least 18 years of age, in proper operation, and to be able to perform routine maintenance.
The Occupation Safety and Health Administration (OSHA) requires forklift pathways to be permanently marked on the floor to separate vehicle traffic from pedestrians. Drivers must use seatbelts and be required to keep their eye on the path being traveled to prevent distracted driving.
General Warehouse Hazards
In this potentially dangerous environment, warehouse workers can suffer injuries such as:
Broken bones or head and neck injuries from slip and falls
Traumatic brain injury (TBI) including concussions from struck-by accidents
Electrocution from improper lockout/Tagout procedures
Chemical burns from improperly stored chemicals
Back injuries and sprains and strains from overexertion and poor ergonomics
Crushing injuries and amputations from being caught-in/between a loading dock and a truck
Repetitive motion injuries from lifting, reaching, pulling, and pushing loads
Safety for Warehouse Workers
Almost all warehouse accidents can be prevented, thereby protecting workers from injury and fatalities. Employers can minimize the risk to warehouse workers by complying with OSHA standards and regulations, including:
Training workers to recognize and avoid hazards, as well as training workers for specific tasks such as handling chemicals, lockout/Tagout procedures, and how to stack loads evenly and straight. Workers should also have task-oriented ergonomic training to prevent injuries.
Marking dock edges clearly and using OSHA-specified dock ladders and stairs.
Providing the appropriate personal protective equipment along with training for how and when to wear it, as well as the proper inspection and maintenance of said equipment.
Equipping the warehouse with adequate ventilation.
Using good housekeeping practices to keep aisles and passageways free of obstacles and spills.
Additionally, all warehouses should have and review emergency plans and procedures for fire and evacuation, as well as chemical spills.
Workers' Compensation for Warehouse Workers
The Pennsylvania Workers' Compensation Act provides Workers' Compensation benefits for warehouse workers who are injured on the job. It is a no-fault system, which means even if you were partly responsible for the accident that caused your injuries, you can receive medical benefits, wage loss benefits, and disability payments to help you recover from your work-related injuries. Families of workers who suffer a fatality are eligible for death benefits.
Some warehouse workers, such as dockworkers, may be covered by a different set of regulations. For answers to questions about how you are covered by Workers' Compensation and the benefits available to you, contact a qualified work injury lawyer in Philadelphia who can help ensure your claim is filed with the correct agency, and within the required timeframe.
Philadelphia Workers' Compensation Lawyers of Gross & Kenny, LLP Help Injured Warehouse Workers
At Gross & Kenny, LLP our entire practice is dedicated to helping the injured workers of Pennsylvania. Our skilled Philadelphia Workers' Compensation lawyers can help you with your legal needs to ensure you receive the maximum compensation available to you. Call 215-512-1500 today or contact us online to schedule your free initial consultation in our Philadelphia, Pennsylvania office. We serve injured service industry employees throughout the state.