Philadelphia Roofers Workers' Compensation Lawyer
Roofers have one of the most dangerous jobs in the United States. Roofs that require work are often unsafe; they may have missing or damaged shingles, which can cause roofers to lose their footing and fall. Also, roofing contractors may fail to provide workers with a legally mandated safe and healthy work environment. As such, roofers are at high risk of sustaining serious and even fatal injuries on the job.
Do not hesitate to contact Gross & Kenny, LLP, if you are a roofer who was seriously injured while on the job. Our Philadelphia roofers workers' compensation lawyers will fight tirelessly to help you secure the benefits you need to move forward. Contact us today to schedule your consultation with an experienced legal professional.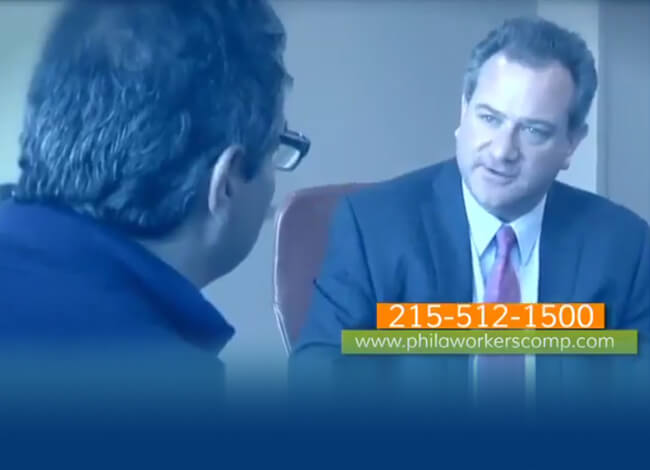 Watch our video to learnmore about our firm
Common Roofing Injuries
There are almost 100,000 roofing contractors in the United States, that by law must protect their workers from known hazards of the job. However, sometimes employers do not follow federal and state safety protocols, and consequently, their workers suffer injuries.
Roofing contractors are most frequently cited by OSHA for failure to have fall protection, ladder safety, and fall protection training. Some of the most common injuries roofers suffer in South Philadelphia include:
Fractures and Broken bones
Back/spinal injuries
Lost limbs
Illness from hazardous chemicals such as asbestos, lead, or silica
Lacerations
Puncture wounds from roofing tools and equipment
Electrocution from overhead powerlines
Roofers and Pennsylvania Workers' Compensation Benefits
According to the Occupational Safety and Health Administration (OSHA), falls are the number one cause of death in the construction industry. Of the 3,500 fatalities from falls between 2003 and 2013, falls from roofs accounted for approximately 1,200 – 34 percent.
OSHA cites many hazards of the job, including ladders, power tools, electricity, noise, hazardous substances, and extreme weather.
When roofers are injured or killed on the job, they or their surviving family members may be entitled to Workers' Compensation benefits. Families who are interested in pursuing legal action should contact an experienced Philadelphia roofers workers' compensation attorney.
Work Injury Lawyers in Philadelphia
Whether in Bustleton, South Philly, or anywhere else throughout the state, nearly every Pennsylvania worker is covered by the Pennsylvania Workers' Compensation Act. This act provides medical expenses, wage loss compensation, and other benefits in the event of a work-related injury or death. It is important to take certain steps to ensure your benefits are not delayed or denied.
After the accident, see a doctor immediately and follow up on any instructions the doctor gives you. Keep all paperwork, whether from your doctor, the insurance company, or employer – as well as copies of any paperwork you submit. For compensation to be allowed, Pennsylvania workers must give notice to their employers no later than 120 days from the date of injury.
The roofers workers' compensation process is complex, and you will benefit from being represented by an experienced Philadelphia attorney. If you do not have a skilled attorney on your side, chances are any offers you receive will not reflect the maximum amount of benefits you deserve. Attorney Jeffrey S. Gross is a Certified Workers' Compensation specialist and has been helping injured clients fight for their legal rights since 1991. At Gross & Kenny, LLP, we fight to ensure that you receive the appropriate benefits and the right amount of compensation for your injuries.
Let a Philadelphia Roofers Workers' Compensation Attorney Help You Today
The Philadelphia roofers workers' compensation lawyers of Gross & Kenny, LLP have decades of experience, and our firm exclusively handles Pennsylvania Workers' Compensation claims. If you were injured on the job, or your loved one was involved in a fatal workplace accident, call us today to schedule your free initial consultation. We serve injured roofers throughout Philadelphia and the surrounding areas of Bustleton and South Philly.