Workplace Foot and Ankle Injuries in Philadelphia
If you have suffered a workplace foot and ankle injury in Philadelphia, your employer may push you back to work before you have fully healed. This can lead to chronic pain that can affect you for years into the future.
Philadelphia work injury lawyers, Jeffrey S. Gross and Patrick W. Kenny, along with their associates have focused exclusively on representing injured Pennsylvania workers for more than 20 years. At Gross & Kenny, LLP, Our goal is to help you receive the workers' compensation benefits you need to recover your health following a work-related injury. We offer a free initial consultation to discuss your case.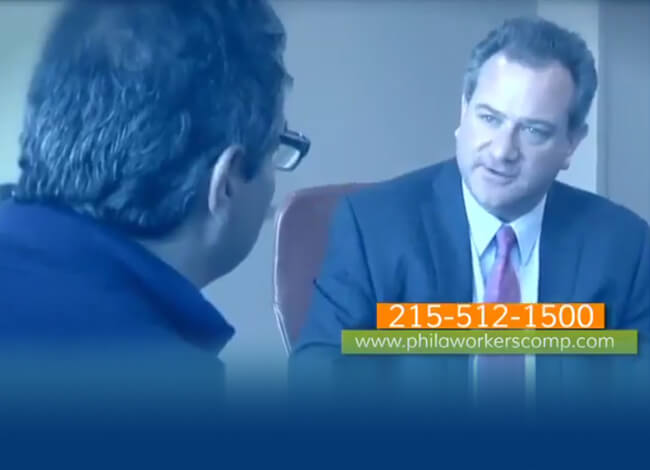 Watch our video to learn more about our firm
Common Types Of Foot And Ankle Injuries Victims Sustain
Some serious workplace foot and ankle injuries our Philadelphia lawyers are familiar with include:
Achilles tendinitis
Bursitis
Compartment syndrome
Dislocation
Foot crush injuries
Foot trauma
Joint injuries such as osteochondritis dissecans
Metatarsalgia
Plantar fasciitis
Pulled muscles
Sprains, strains, and fractures
Foot injuries are common among Bustleton workers who spend hours each day on their feet. Unfortunately, your employer may try to stop your benefits by claiming that the injury has been resolved or is not work-related. If your benefits have stopped, our lawyers can act quickly to seek to have them restored.
Types Of Compensation Available For A Foot And Ankle Injury
Any person who sustains a workplace foot or ankle injury in South Philadelphia will likely be entitled to various types of compensation for their losses. First, we must point out that nearly every work injury is going to be paid through the Pennsylvania workers' compensation system. This system is considered "no-fault," which means the injured workers will receive compensation for their losses regardless of who caused the workplace injury.
Those who sustain foot or ankle injuries at work in Bustleton should be entitled to coverage of their:
Medical bills related to the injury
Physical therapy or rehabilitation expenses
Medical devices or prescription medication costs
In addition to coverage of these medical costs, workers' compensation will also cover a significant portion of an injury victim's lost income if they cannot work while they recover (two-thirds of the worker's average weekly wage).
It is absolutely crucial for injury victims in these cases to work with a workers' compensation attorney who can handle every aspect of these claims. Employers and insurance carriers can put up a fight when it comes to paying out full compensation for an injury victim's losses. Under no circumstances should a person who sustained an on-the-job injury be denied their rightful coverage.
The Time Limit For Filing A Foot Or Ankle Work Injury Claim
It is very important for those who sustain a foot or ankle injury at work in the Philadelphia area to make sure that they file their claims on time. When we are talking about work injuries, we have to acknowledge that there are various time limits in place that do not follow the typical personal injury statute of limitations.
In reality, work injuries need to be reported to an employer or supervisor right away. The sooner, the better. However, work injury victims do have a total of 120 days to let their employer know that they have sustained a work-related injury.
Even after a work injury is reported, this does not necessarily mean that the injury victim has to file the workers' compensation claim right away. In Pennsylvania, there is an overall work injury statute of limitations of three years in place for these claims. Any person who does not file their workers' compensation claim within three years after the date the accident occurs will likely lose the ability to recover any compensation at all.
Learn More About Workplace Foot and Ankle Injuries in Philadelphia Today
At Gross & Kenny, LLP, we handle all worker's compensation cases on a contingent fee basis and do not require a fee upfront. Let our lawyers make workers' compensation work for you. Call us today to discuss workplace foot and ankle injuries in Philadelphia with a dedicated legal advocate.