Suspension of Philadelphia Workers' Compensation Benefits
A suspension of Philadelphia workers' compensation benefits occurs when an injured worker returns to work but is not completely healed from the work injury. It is essentially an acknowledgment by your employer that your work injury may require future medical treatment with the possibility of wage loss.
It is extremely important that if you have not fully recovered from your injury that your Workers' Compensation benefits are not terminated. A suspension makes it easier to receive wage loss benefits in the future should this become necessary.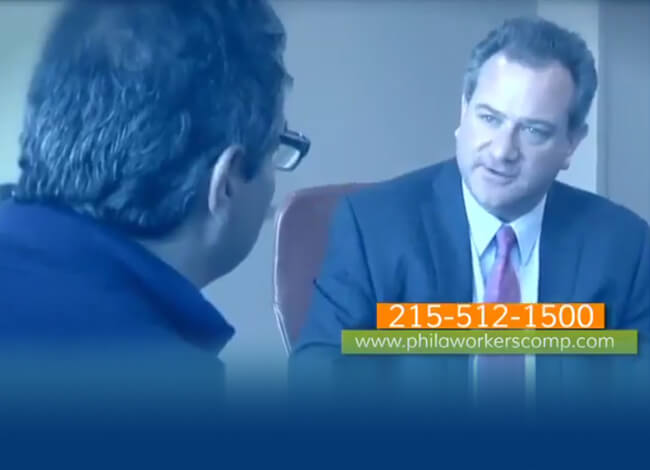 Watch our video to learnmore about our firm
During a suspension, your employer (or, more typically, their Workers' Compensation insurance company) must continue to pay for medical bills related to your work injury. This is not the case if your Workers' Compensation benefits are terminated. However, even though you may still receive compensation for your medical bills after your South Philly Workers' Compensation benefits have been suspended, you will stop being provided with money that is meant to partially compensate you for any lost wages relating to your injuries.
Reasons for Suspension of Benefits in Pennsylvania
There are a number of reasons your Workers' Compensation benefits may be suspended. The following are among the more common:
You have returned to work: This is perhaps the top factor resulting in the suspension of Workers' Compensation benefits. If you have recovered sufficiently from your injury and can return to work earning at least as much money as you were earning prior to your accident, it may be decided that you are no longer eligible to receive compensation for lost wages.
It is determined that you have sufficient earning potential: Even if you do not return to work, a Workers' Compensation judge might determine work is available in your area and you are physically able to perform the duties associated with this potential employment. Essentially, if an insurance carrier or your employer presents evidence indicating you have the opportunity to earn the same wages you were previously earning, it may be decided that you no longer need to receive certain Workers' Compensation benefits.
You have chosen not to receive necessary medical treatment: If you have been offered medical treatment that could theoretically restore your ability to work and earn a living, but you have refused said treatment, an insurance carrier or your employer can file a petition asking a Workers' Compensation judge to rule that you are no longer eligible to be compensated for lost wages—they may argue you would be able to earn appropriate wages if you agreed to receive the necessary treatment.
You have indicated a desire to no longer be a member of the workforce: Some people who are recovering from workplace injuries decide they may no longer wish to return to work at all. For example, they might feel they are too old and would prefer to retire. If you give your employer, an insurance carrier, or any other such party reason to believe you do not intend to resume working, odds are good they will attempt to have your benefits suspended.
Those are just a few noteworthy examples. To better understand why your Workers' Compensation benefits might be on hold, discuss the topic with a South Philly or Bustleton attorney. Be aware, though, having your benefits suspended may be desirable if this prevents your benefits from being fully terminated.
The Suspension Process
If your employer decides to suspend your Workers' Compensation benefits after you return to work, they must notify both you and the Department of Labor in writing within seven days of the suspension. You have the option to contest the facts of the notification and have 20 days to file a notice of contest with the Department of Labor.
Within 21 days, a special supersedeas hearing must be held. At the hearing, your Philadelphia employer will present facts to support the decision to suspend your benefits. You must be prepared with strong evidence to the contrary to successfully challenge your employer.
If you do not challenge the notification, you would accept it by signing a Supplemental Agreement for Compensation, which is a fully binding agreement of the suspension of your benefits. The suspension period may last up to 500 weeks.
When You Return to Work
Your suspension agreement may have stipulations that require you to document your medical progress, and it is crucial that you comply, should you ever need to resume your benefits. You may have to show that you attended follow-up doctor visits, physical therapy sessions, and other medical treatments.
The Benefits of Working With an Attorney
If you return to your job after your work-related injury and your doctor is still monitoring your healing, you are entitled to a suspension of Philadelphia workers' compensation benefits. It is highly advisable to have an experienced Workers' Compensation lawyer look over the agreement your employer asks you to sign, to ensure you are not signing away your right to future benefits.
Should you decide to contest your employer's petition to suspend your Workers' Compensation benefits, it is to your advantage to have a qualified attorney build and present your case, so that you can make the strongest showing possible before the judge at the supersedeas hearing.
The judge's ruling is final and cannot be appealed – so consider taking advantage of a free consultation with a reputable Workers' Compensation lawyer beforehand.
An employer cannot suspend your benefits without a Supplemental Agreement, Final Receipt, or filing a petition that says you have fully recovered and can return to work.
While most employers look out for the health and safety of their employees, there are some who will present documents for you to sign that are similar to a Supplemental Agreement or Final Receipt, but which can jeopardize the chances of you receiving benefits in the future.
Consult with an Attorney About Philadelphia Worker's Compensation Benefits Suspension
Contact our firm today to learn more during a free consultation.