Notifying a Philadelphia Employer About a Work Injury
When you are working to earn a living, the last thing you need is an injury that puts you out of commission. At a minimum, a work injury is a hassle – at worst, it can turn your life upside down. If you have been injured in a work-related accident or have been diagnosed with an occupational illness, the steps you take immediately following can have a significant impact on your physical and financial recovery. One of the first and most important things you can do is notifying a Philadelphia employer about a work injury. Though it may seem like a fairly obvious step, many people underestimate its importance, often with unfortunate consequences.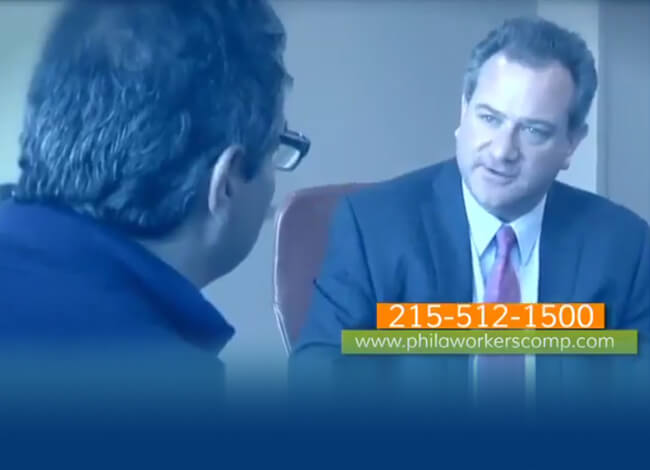 Watch our video to learnmore about our firm
People may hesitate to report their injuries for a variety of reasons. They may be embarrassed or worry about losing their job. They may think that the injury is not that serious or that they can work through the pain. But when it comes to a work injury, taking a wait-and-see approach is never a good idea. In addition to risking further physical harm, you also increase the odds that your employer will deny you workers' compensation benefits such as coverage for medical expenses and payment for time out of work. Notifying your Philadelphia, South Philly, or Bustleton employer of a work injury is one of the most important first steps you can take.
When to Notify Your Employer
If you are injured on the job in Pennsylvania, inform your employer as soon as possible, even if the injury does not seem serious at first. This critical step is your first line of defense against an employer who may argue that the injury happened outside of work. Additionally, if the injury was the result of a workplace accident, it is important to document the incident while the details are still fresh in your mind and the minds of any witnesses.
Under Pennsylvania workers' compensation law, you must notify your employer within 21 days of being injured. If you do not provide notification within 120 days, you may lose your right to benefits entirely. This is yet another reason why it is so important to talk to your employer about your injury as early as possible.
If your injury is serious, seek legal advice quickly. Avoid giving any statements to the insurance company without first speaking with a reputable attorney. He or she will inform you of your rights and help you avoid mistakes that could limit your claim to benefits.
Employer Responsibilities
The Pennsylvania workers' compensation Act lists specific actions that employers must take before, during, and after an employee is injured on the job. An employer should:
Provide a safe workplace – Employers have a legal obligation to provide a workplace that is safe and free of known hazards. Employers must also comply with state and federal standards in regards to training and the use of protective equipment.
Inform you of your rights and responsibilities – You should receive written information about your company's workers' compensation plan when you are hired and again at the time you notify your employer of a work injury or illness.
Provide instructions for filing a workers' compensation claim – Upon notification, your employer should give you detailed instructions for filing a claim along with the appropriate forms.
Report the injury – Your employer must immediately notify the insurance carrier of all injuries. For injuries resulting in time away from work, your employer must also submit a First Report of Injury to the Pennsylvania bureau within seven days of the injury. You have a right to review the form to ensure it is accurate and request a copy of the report for your own records.
Respond to the claim within 21 days – Your employer has 21 days to either accept or deny your claim for benefits. If your claim is accepted, you will receive a Notice of Compensation Payable. If further review is needed, you may receive a Notice of Temporary Compensation. If your claim was denied, the employer will issue a Notice of workers' compensation Denial.
Offer job openings to injured workers – If your injury prevents you from returning to your former position, your employer is required by law to offer you available positions of which you would be capable.
Reach Out to Learn More About Notifying a Philadelphia Employer of a Work Injury
Notifying a Philadelphia employer about a work injury is an important step. Reach out to our firm to learn more about the process.