How to File a Workers' Compensation Claim in Philadelphia
When a worker is hospitalized in connection with an injury sustained on the job, they are unable to work. Other injuries may be less serious but still hinder the ability of a worker to complete his or her duties. Financial relief is available under both scenarios. Workers' Compensation benefits provide a portion of lost pay and reimbursement of medical bills, regardless of the severity of an injury, as long as an employee is unable to work. Filing a claim is the first – and most important – step in the process. Call today to let our attorneys walk you through the process of how to file a workers' compensation claim in Philadelphia.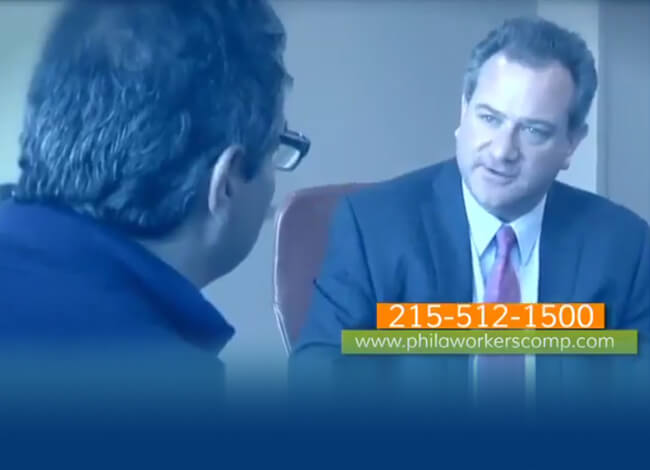 Watch our video to learnmore about our firm
The act of filing a Workers' Compensation claim in South Philly or Bustleton is where most injured workers will go wrong, however. A claim for Workers' Compensation benefits must be strong from the start. A skilled attorney can assist injured employees as they compile the documentation needed to prove that they are indeed entitled to an award of benefits under Pennsylvania Workers' Compensation Law.
Importance of Filing a Timely Claim
Knowing how to file a worker's compensation claim in Philadelphia including South Philly and Bustleton is crucial. Immediately upon sustaining an injury, an employee must make their supervisors aware of what has happened. The longer an employee waits to report their injury, the lesser amount of benefits they will be eligible to receive. Employees who provide notice of an injury within 21 days can seek benefits from the date of their injury; those who wait longer than 21 days can only receive benefits from the date notification was given. Moreover, in most cases, an employee who waits longer than 120 days to provide notification of an injury forfeits any right to Workers' Compensation benefits.
Once notification has been given, an employee will be notified whether their claim will be approved or denied. Occasionally, an employer provides a Notice of Temporary Compensation Payable (NTCP), whereby benefits are paid but an employer admits no liability in connection with an injury. Regardless of whether a claim has been approved, denied, or results in the issuance of an NTCP, an employee can expect a decision within three weeks.
Denials Are Common; Simple Process to Appeal
A denial is disheartening but must be challenged. Fortunately, under Pennsylvania's Workers' Compensation Law, there are mechanisms in place to protect the rights of those who have been unfairly denied Workers' Compensation benefits. Injured employees have three years to file a petition with the Bureau of Workers' Compensation. If a Workers' Compensation judge upholds the denial, the case can be argued again before the Workers' Compensation Appeals Board. An adverse ruling by the Appeals Board can, in turn, be appealed to the Commonwealth Court.
There are certain steps that can be taken during the initial notification of an injury that can bolster a claim. If any coworkers witnessed the workplace accident which led to injury, an employee should obtain from them a detailed written account. Additionally, an employer and their insurer will request all medical documentation of the injuries allegedly sustained. Employees who diligently compile such information – including records of follow-up visits, lab work, and imaging studies ordered and completed – are better positioned to establish the existence of an injury that makes continued work impossible.
Call to Learn How to File a Workers' Compensation Claim in Philly
Contact our firm for additional guidance on how to file a workers' compensation claim in Philadelphia.