Modification of Philadelphia Workers' Compensation Benefits
For those who have been injured in a work-related accident, workers' compensation benefits are sometimes the only source of income during the recovery period. Any changes to this income, or termination of benefits, could be catastrophic for a worker who has not yet made a full recovery and has a family to support.
You may need assistance from an attorney who has extensive experience handling these situations. Receiving notification of changes to your benefits or finding out that your benefits have been discontinued can be unnerving. However, our team can use their resources to fully investigate the situation, handle your appeals, and even appear in court on your behalf. Contact us today for help with the modification of Philadelphia workers' compensation benefits.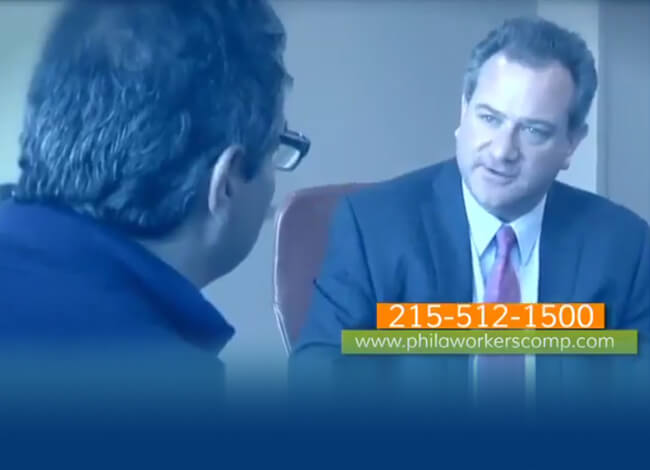 Watch our video to learnmore about our firm
Will I Know If My Benefits Are Being Modified?
One indication that your South Philly or Bustleton employer has an interest in modifying your workers' compensation benefits is a visit from a vocational expert to assess your earning power – in other words, what types of jobs you are capable of doing while you are recovering. There may be a modified or "light duty" job available that the vocational expert feels would be appropriate for your capabilities.
If your employer, or the insurance company, asks you to complete an independent medical exam (IME) by a physician of their choosing, this could be another sign that they intend to modify or terminate your medical or wage loss benefits. If the physician is of the opinion that you are well enough to return to some form of work, then your employer will have grounds to file a modification/suspension petition.
Contact an experienced attorney immediately if you have concerns about the continuation of your benefits. The Pennsylvania workers' compensation act gives you the right to receive medical and wage loss benefits if you have been injured on the job. An experienced lawyer can help you keep your benefits until you have made a full recovery.
Notification of Changes to Your Benefits
If you are receiving Philadelphia workers' compensation and your employer thinks you can return to work so that they can stop paying your benefits, you will receive a modification/suspension petition in the mail. This is a legal document that asks a workers' compensation Judge to hold a hearing to reexamine the benefits you are currently being paid.
At the hearing, your employer will present evidence as to why you should return to work, either at wages equal to your pre-injury earnings or greater. If they are successful, your wage benefits will be suspended. If you can return to work, but at wages less than what you were previously earning, your wage benefits will be reduced to two-thirds of the difference between your old and new wages.
Steps To Take After A Notifications Of Changes In Pennsylvania
You will be sent instructions about how to answer the petition. Consider working with an experienced lawyer for assistance in answering the petition within the deadline given and defending your right to benefits at the hearing.
When your case has been assigned to a workers' compensation Judge, you will receive a Notice of Assignment. Then your case will be scheduled for a hearing.
Your employer cannot stop paying your benefits unless the Workers' Compensation Judge has issued a judgment about your case.
There are several possible outcomes, including:
Your benefits could remain the same if the judge decides you cannot continue working.
Your benefits could be reduced to two-thirds the difference of your previous and current wages if the judge determines you can work again, but at a lesser wage.
Your benefits could be terminated if the judge decides you are capable of earning at the same or greater rate as the wages you earned before your work injury.
Each judge is different, and no two cases are exactly alike. In general, most evidence in these cases is given through depositions. At the first hearing in these situations, the injured worker will have to testify about their injury and sit through cross-examination by the defense. A judge could issue a preliminary ruling, but they may not take any action until their final ruling.
After a judge establishes a briefing schedule and a trial date, the role of your attorney will be to present medical documentation as well as testimony from medical professionals and other experts. A workers' compensation judge's ruling is typically final unless the ruling is appealed. That said, if either side believes that there was an error of law, they can appeal the decision to the state workers' compensation Appeals Board. It is wise to seek Bustleton legal counsel when facing a modification of your workers' compensation benefits.
Appealing A Denial Or Reduction Of Workers' Compensation Benefits
You may appeal the judge's decision. But during your appeal, you will receive the number of benefits that were decided as a result of the hearing. For instance, if your wage replacement benefits were lowered, then that is what you will receive during the appeals process. If your wage replacement benefits were suspended, you can only receive medical benefits while you appeal your case.
A successful appeal is rare, which is why is it so important to have a qualified workers' compensation lawyer represent you at the hearing. In certain circumstances, the law gives the workers' compensation Judge the absolute right to make a determination.
Affording An Attorney For These Cases
Our attorneys understand that those going through these situations have limited resources available to them. That is why we take workers' compensation appeals cases on a contingency fee basis. Our team will not collect legal fees until after we obtained the compensation that you are entitled to.
Learn More About Modifying Workers' Compensation Benefits in Philadelphia
Reach out today to learn more about the modification of Philadelphia workers' compensation benefits.