Work-Related Head Injuries in Philadelphia
If you suffered work-related head injuries in Philadelphia, Bustleton, or South Philadelphia, you deserve to learn about your legal options from an experienced and committed workers' compensation lawyer. At Gross & Kenny, LLP, we focus exclusively on representing workers who have been injured on the job. To learn about your options for seeking compensation after suffering a head injury, talk to our attorneys today.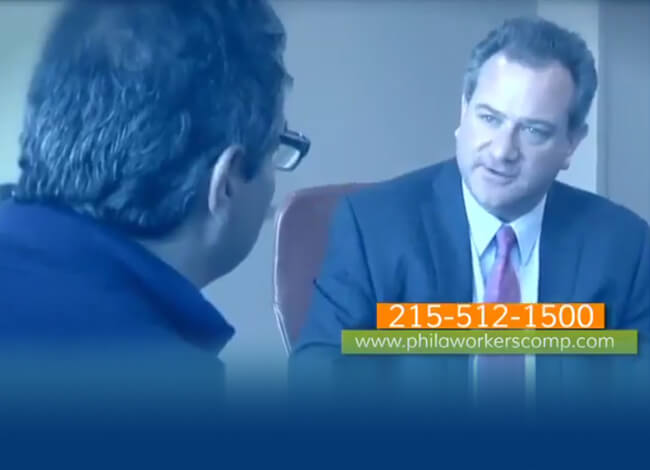 Watch our video to learn more about our firm
Suffering any kind of head injury has the potential to be completely life-changing. This affects not only the injured person but their family as well. Head injuries can destroy lives and livelihoods especially when the road to recovery is long.
It is because of this that all Philadelphia employers have a responsibility to minimize any risks related to work-related head injuries. The safety of every employee is at the forefront of everyone's mind. If you have suffered a head injury as a result of your employer's negligence then it is likely you can make a claim.
On-The-Job Head Injury Claims
Seeking compensation for an work-related head injury in South Philadelphia can be difficult. Claims are often denied due to the difficulty of understanding the symptoms. While an injured worker may undergo many tests to determine the type and seriousness of the injury, these tests may not accurately diagnose the injury. This can contribute to the denial of workers' compensation claims for an individual who has a serious and debilitating injury.
There are numerous reasons why it is important to work with an experienced workers' comp attorney to handle your head injury claim. If you are suffering from a serious injury, you need an attorney advocate to help you seek maximum compensation. Finding a doctor you can trust is an important first step. Then, our firm can guide you through every step of your case.
There are a variety of head injuries that can occur in the workplace. This is true especially if you work in a hazardous environment. Construction sites and factories are the most common settings that have the highest risks for head injuries. Some examples of injuries include but are not limited to:
Slips, trips, and falls– sometimes the result of loose carpets, wet floors, or unsuitable footwear account for roughly 40% of serious injuries. These accidents are easy to avoid if the right precautions are taken and employers stay aware of their surroundings.
Falls from great heights- one of the biggest causes of head injuries and fatalities in the workplace is accredited to high falls. Any employee who works on ladders, roofs, scaffolding, or open ledges must be appropriately supervised and receive the correct training to ensure the utmost safety.
Falling objects- whenever a tool or other piece of work equipment falls from a great height and lands on an individual head injuries are prone to happen. Equipment placed or stored up high is a severe potential danger to those working or passing below. Employers are accountable to protect workers and members of the public from falling objects.
Walking into objects- is just as it sounds if a worker walks into a solid object like a wall, cabinet, or glass window they may bang their head and suffer injury.
Individuals in Bustleton who have suffered a head injury as a result of the accidents listed above may be eligible to make a claim against their employer.
Symptoms Of A Head Injury
The symptoms of a head injury range from barely noticeable to life-altering. Although every head injury is unique, symptoms may include:
Behavioral and personality changes
Chronic headaches
Disorientation
Memory loss
Nausea
Other symptoms
Problems concentrating
Seizures
Speech and language problems
It is vital to always seek immediate medical attention after a Philadelphia work-related head injury. Inform the doctor that your injury took place while at work. The effects of a head injury can cause external damage to the skull or internal damage to the brain. Head injuries can be either internal or external.
External effects: bruising, swelling, and damage to the skull are all possible consequences. You may experience memory loss, dizziness, and nausea from injury to the head. In some serious cases, seizures are possible.
Internal effects: any skull fracture may lead to blood clots forming in the brain. Contusions, bruising to the brain, hemorrhaging, and bleeding in the brain may also occur. Sometimes an injured worker experiences diffuse axonal injury or DAI. This is an injury that happens when a person's brain is shaken back and forth violently. If severe enough, the person can seep into a coma.
Time Limit To File A Work Head Injury Claim
We want to point out that all work injuries that occur in South Philadelphia should be reported to a supervisor or an employer as soon as possible in order to ensure that the injury victim is able to recover the compensation they are entitled to. However, workplace injury victims do have 120 days to report the injury to their employer. This is understandable because it is not uncommon for work injury victims to not realize the full extent of their injuries until days or even weeks after the injury occurs.
After a work injury is reported, a victim will still have three years from the day of the injury occurs to file their workers' compensation claim, per the Pennsylvania work injury statute of limitations. However, we do not recommend waiting this long to file a claim. Any delay in seeking compensation could result in the employer or the insurance carrier putting up a fight in an effort to lower how much money is paid.
Types Of Compensation Available After A Workplace Head Injury Occurs
There may be various types of compensation available to Philadelphia workplace head injury victims. Through the Pennsylvania workers' compensation system, head injury victims may be entitled to:
Coverage of all emergency and ongoing medical bills related to the injury
Coverage of any rehabilitation or physical therapy needed
The cost of any prescription medications or medical devices needed
Bustleton workers will also be entitled to lost wage replacement in the event they are unable to return to work until after they have recovered. This means that a worker will receive two-thirds of their average weekly wage for a specified amount of time. If an injury victim is unable to return to work because of a permanent disability, they will likely be entitled to various types of compensation depending on their disability rating.
Understanding The True Cost Of A Philadelphia Workplace Head Injury
Work-related head injury cases can be complicated, particularly when it comes to determining the total amount of compensation a Philadelphia victim should receive. This is because these types of injuries often result in long-lasting complications that can be very challenging to calculate the costs upfront. In some cases, the full extent of a brain injury may not be known for months or even years after the injury occurs.
That is why we strongly suggest that workplace brain injury victims work with a skilled Philadelphia workers' compensation attorney who can handle every aspect of these claims. An attorney serving Bustleton and South Philly will work with trusted economic and medical professionals to ensure that their client is cared for appropriately. An attorney will make sure that the workers' compensation insurance carriers adequately analyze the claim and account for the possible long-term complications a victim may experience.
Contact us at Philadelphia Workers' Compensation Lawyers of Gross & Kenny, LLP. We can help you pursue the compensation you deserve. For a free consultation call us today.
Suffering From Work-Related Head Injuries in Philadelphia? Call Our Firm
To find out more about seeking workers' compensation benefits for a head injury or brain injury, contact us online today. Call the Philadelphia workers' compensation lawyers of Gross & Kenny, LLP, to schedule a free consultation. We proudly serve all kinds of workers throughout Philadelphia and the surrounding areas, such as Bustleton and South Philly.