Philadelphia Workers' Compensation Retaliation Lawyer
Nearly every employee in Pennsylvania is entitled to workers' compensation benefits if they sustained a workplace injury or illness. These benefits will typically be paid regardless of which party caused the injury, and they pay medical expenses, lost wages, disability benefits, and even death benefits. However, there are times when employers retaliate against workers who file injury claims. When this happens to you, reach out to a dedicated Philadelphia workers' compensation retaliation lawyer for help.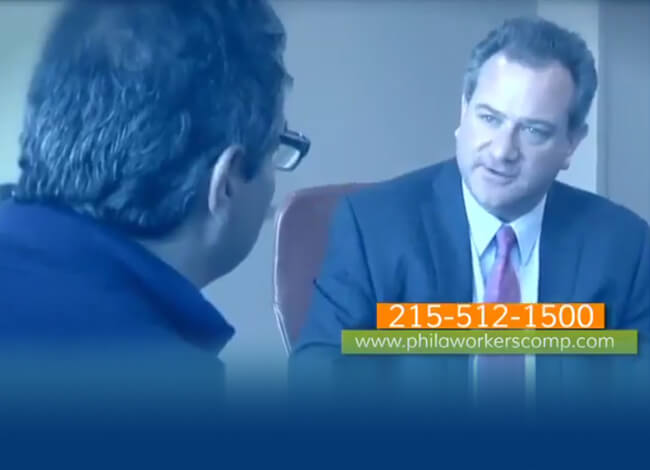 Watch our video to learnmore about our firm
There may be a variety of reasons why an employer would retaliate against their employees, including the following:
To avoid paying workers' compensation benefits
To replace the injured employee, instead of waiting for them to recover
To avoid having to accommodate any work restrictions the employee might have upon returning to work
Additionally, an employer can avoid paying unemployment benefits if an employee resigns from their job voluntarily. When a worker resigns their position, not only can they not collect unemployment benefits, they also cannot file a wrongful termination lawsuit against their former employer. Here, we want to discuss the various types of retaliation that can occur after an employee files an injury claim and how a South Philly attorney can help.
Workers' Compensation Claims and Retaliation
Workers' Compensation covers medical care, wage loss benefits, and offers disability payments for workers who are injured on the job. It is a no-fault system that provides a safety net for employees who need time off to recover from work-related injuries.
Under the Pennsylvania Workers' Compensation Act, employers may not retaliate against workers who suffer a work accident and claim Workers' Compensation benefits for their injuries. This would negate the entire reason for the Workers' Compensation system.
If you are receiving Workers' Compensation benefits and feel you have been treated unfairly after your injury, document the situation at your workplace.
Beginning with your injury, write down if you were unable to return to work immediately or if your workload had to be modified. Note how you were treated upon your return to work. If you feel you are the victim of a hostile work environment, document those conditions. Be sure to consult with an experienced Bustleton workers' comp retaliation attorney who can explain your legal options for compensation.
Understanding The Different Types Of Retaliation
Pennsylvania is an at-will work state, which means that an employer can fire an employee for whatever reason they want, so long as the reason is not illegal under state or federal law. However, federal law does prohibit employers from retaliating against their workers for reporting workplace injuries or filing a workers' compensation claim. Some of the most common ways that our South Philly and Bustleton workers' compensation attorneys see retaliation occur in the workplace include the following:
Denying a promotion that may be due
Denying a raise or additional benefits
Demotion or wage decrease
Making threatening remarks
Providing unjustified negative job references
Providing unjustified negative performance reviews
Increasing surveillance on the employee
All of the types of retaliation that we mentioned above has been used on employees who file work injury claims. These are pressure tactics designed to intimidate the injured worker, as well as others in the workplace. Often, these tactics are applied in order to get the worker to hold off on filing their work injury or even to get the worker to quit before filing a claim. However, perhaps the most extreme example of retaliation for a workplace injury includes forced resignation.
Constructive Discharge
Constructive discharge is the legal term for a forced resignation. To force someone out, the employer may say outright that if the employee does not resign they will be fired, leaving that person no choice. Alternatively, they may seek to create a hostile work environment. In other words, to make that person's conditions in the workplace so difficult and intolerable that the employee "chooses" to resign, rather than stay.
Both tactics are considered the same as termination. If you were constructively discharged from your job, you have legal options for compensation available to you.
Compensation Settlement Agreements
If you negotiated a compensation settlement agreement that included your resignation, this is generally not considered a forced resignation. In many states, including Pennsylvania, such agreements include the employee's resignation and courts have upheld them to be non-coercive.
Seek the Services of a Philadelphia Workers' Compensation Retaliation Attorney
If you are offered a compensation settlement agreement, it is imperative to have a qualified Philadelphia workers' compensation retaliation attorney review it before you sign, in order to ensure the terms of the agreement are in your favor. Call today to get started.