Employee Misclassification in Philadelphia Workers' Compensation Claims
When interviewing for a new job, most workers will inquire about their starting salary, vacation time, and other perks such as the right to participate in a retirement plan or the availability of medical benefits. An equally important question that often goes unasked, however, is how a worker will be classified by their prospective employer. When classified as an independent contractor workers lose many of the protections afforded to employees. Many individuals who suffer a work-related injury file for workers' compensation benefits only to find out too late that their employment status has been misclassified. When you experience employee misclassification in Philadelphia workers' compensation claims, our team can help.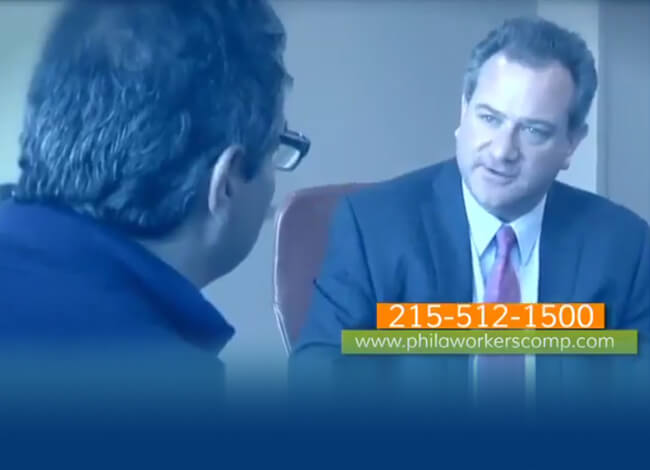 Watch our video to learnmore about our firm
What Will An Attorney Do For A Misclassification Case?
If you have been the victim of misclassification on the job, this can be detrimental when it comes to securing your rightful benefits. Unfortunately, independent contractors are not entitled to the same types of benefits as traditional employees, including coverage through workers' compensation insurance. However, if an employee is intentionally or unintentionally misclassified by their employer, an attorney needs to be involved.
A skilled attorney will play a myriad of roles in these cases. This includes, but is not limited to, the following:
Communicating with the client about their situation. This includes a discussion about the nature of their job, what they were told when they were hired, and how their work duties have changed or stayed the same since they began the job.
Obtaining all documentation related to the employment. This can include in initial hiring contract, the application that was originally filled out, pay stubs, W2s, 1099s, tax returns, and more.
Speaking to coworkers and supervisors about the nature of the client's job duties.
Handling the filing of all paperwork/court documents pertaining to the misclassification.
Negotiating with every party involved in order to reach a fair settlement agreement with the client.
Fully preparing to take the case to trial if necessary to ensure the worker is treated fairly and receives the benefits they are entitled to.
Misclassification of South Philly employees in workers' compensation claims can be complicated. An attorney will be far more than just someone who files court cases on behalf of their client. An attorney will remain in constant contact with their client and keep them in the loop about any developments that arise while their cases ongoing. Employment law cases can be incredibly stressful, but an attorney will understand that their client is a person who deserves to be treated respectfully throughout the entire process.
Key Distinctions Between Employees, Independent Contractors
Unfortunately, the differences between independent contractors and employees can sometimes be difficult to discern making misclassification of Bustleton employees in workers' compensation claims common. Independent contractors and employees often work side-by-side, perform similar tasks, and report to the same supervisor or manager. The manner in which assignments are received and completed can shed light on the true nature of the relationship between an employer and members of his or her workforce, however.
Independent contractors retain autonomy to accept or reject work at their leisure. They provide a good or service, usually while working within the constraints of an employment contract. They may choose their own hours, work from home, and handle a project or assignment in any way they see fit, as long as they deliver a finished product in accordance with the terms agreed upon by all parties at the time of hire. By contrast, employees are expected to comply with all requests by an employer. Their workflow is almost entirely dictated by a manager or supervisor, who also determines where and when work will be completed.
Misclassification and Workers' Compensation Benefits
More often than not, the employee misclassification in Philadelphia workers' compensation claims is a deliberate attempt on the part of the employer to cut costs. This is because an employer must pay Social Security, Medicare, workers' compensation insurance, and unemployment taxes for each employee. Independent contractors receive none of these benefits.
When an employee becomes injured on the job they are frequently entitled to workers' compensation benefits, which provide partial pay and continued medical benefits. Accordingly, the workers' compensation can keep an injured employee financially afloat during their recovery. However, workers' compensation benefits are unavailable to independent contractors. When an independent contractor sustains an injury in the course of performing the job duties they have no financial recourse. If they are unable to work, they will not be paid – regardless of the circumstances surrounding their workplace accident.
Because it is impossible to know if or when a worker will become injured, it is imperative that members of the workforce learn their classification status prior to sustaining an injury. Correcting a misclassification takes time and often requires intervention by the Internal Revenue Service, who will conduct an independent audit of the employer's workforce to determine whether a classification is correct. While a potential misclassification is under review, the absence of workers' compensation benefits can spell financial doom for an injured employee. An employer who attempts to skirt their financial obligations to their workforce can and should be held accountable, as soon as the misclassification is discovered.
Call an Attorney If You Were the Subject of Employee Misclassification in Philadelphia
Contact our firm today to learn more about misclassification and how we can help.