Power Tool Accidents in Philadelphia
Power tools include any tools that use an energy source that is electric, pneumatic, hydraulic, liquid-fueled, or powder-actuated. Power tools also include portable abrasive wheels. These tools are invaluable to the workers using them but when they are used without the right training and safety precautions they can also cause serious injuries.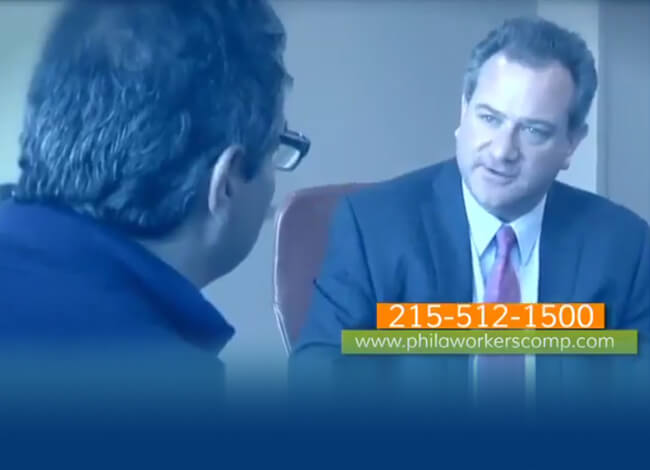 Watch our video to learnmore about our firm
Risks and Hazards
Power tool accidents in Philadelphia, South Philly, Bustleton, and beyond are unfortunately common. Each type of power tool has different risks and hazards associated with its use.
Electric Tools – the main hazard is the risk of electrical burns and shocks. Electrical burns travel through the body burning internal tissue and are very serious injuries. Shocks can lead to heart failure and even small shocks that occur at large heights can cause a worker to fall and suffer a serious or fatal injury.
Hydraulic Tools – such as jacks, are commonly used to lift heavy loads. Caught in/between accidents can result from jacks failing, causing workers to suffer crushing injuries.
Liquid Fuel Tools – chainsaws, brush cutters, and concrete saws are examples of tools powered by gasoline. Working with this type of power tool can produce fuel vapors that can catch fire and explode. Without proper ventilation, exhaust fumes can cause carbon monoxide poisoning.
Pneumatic Tools – these include hammers, drills, chippers, and sanders, which can send out flying fragments or attachments, causing eye injuries as well as other injuries. Pneumatic tools are also very noisy, which over time can lead to occupational hearing loss.
Portable Abrasive Wheels – these are intended for grinding, cutting, and polishing and can throw off flying fragments when in use. The wheel itself can also fly apart while in operation if it is in poor condition. Injuries to the eyes, face, and other parts of the body are most common.
Powder Actuated Tools – operation of Ramset guns, Hilti guns, and other powder actuated tools is so dangerous that special training is required. Injuries from these tools can include hearing damage and ricochet, penetration, and explosion injuries. Finger and hand mutilation, sometimes requiring amputation, is not uncommon.
Prevention of Power Tool Accidents
Most power tool accidents in South Philly are easily prevented when the following guidelines are used in the workplace:
Use the proper tool for the job and use it according to the manufacturer's specifications
Always use the safety guards and safety switches for each tool
Keep tools in good working condition and check cords for wear
Disconnect tools before servicing them, when changing accessories, and when not in use
Wear appropriate clothing for the task and the right personal protective equipment
Use good housekeeping practices to keep the workplace free of safety hazards
Power Tool Accidents and Workers' Compensation
If you have been injured on the job using a power tool, you can be compensated for your injuries through Workers' Compensation. A qualified Workers' Compensation lawyer can help you determine if you are eligible for other sources of compensation as well. For instance, if the tool you were using when you were injured was defective, then you can receive damages from a third-party liability claim against the manufacturer of the defective tool.
A successful Workers' Compensation claim can provide you with some or all of the following benefits:
At Gross & Kenny, LLP, our practice is dedicated exclusively to helping injured workers. If you have been injured in a work-related power tool accident in Philadelphia, our knowledgeable attorneys will fight to make sure you receive the maximum allowable compensation for your case. Call today to learn more.
For More Help, Contact a Philadelphia Power Tool Accident Attorney Today!
If you were involved in a power tool accident in Philadelphia while performing your job duties, contact our firm today.