Philadelphia Amputation Injury Attorney
Amputation and Loss of Limb Accidents at Work
If you have suffered a work-related injury in Philadelphia that has rendered you unable to perform your assigned duties, know that there are options. workers' compensation is a no-fault system that aims to help those who have been injured on the job. Injuries that qualify for it range from carpal tunnel to traumatic brain injuries (TBI's) and amputations.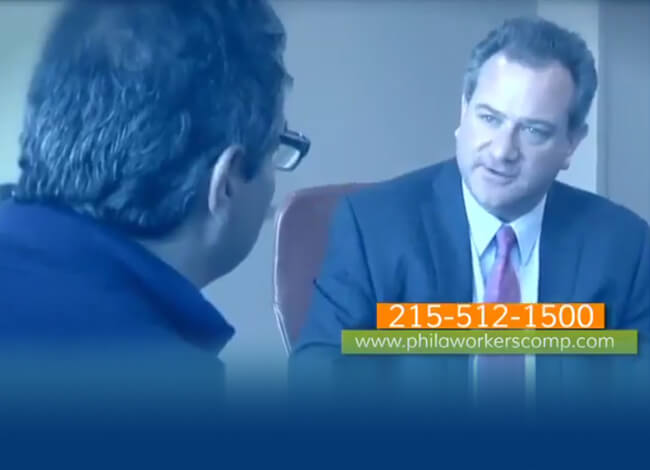 Watch our video to learn
more about our firm
Our highly skilled Philadelphia workers' compensation lawyers have successfully advocated for individuals who have suffered from catastrophic injuries at work. One such injury we are familiar with is amputation. The reason for the loss of limb injuries varies from industry to industry, but we have successfully litigated for clients in the following workplaces and industries:
Agricultural Workers
Individuals in the agricultural industry are at risk for amputations as well. Roller mills, tractors, and other heavy machines used for planting and harvesting put workers at risk of amputation.
Construction Workers
Workers in the construction industry are by far the most at risk for loss of limb injuries. Cranes, scaffolding, and various power tools such as drills and jackhammers can crush or cut any digits or limbs that get in their way.
Factory Workers
Individuals who work on the line may be at risk of degloving injuries. Degloving injuries generally occur when a worker gets too close to an unprotected or poorly guarded nip or pinch point. These injuries are catastrophic and can lead to the loss of fingers or the hand itself.
Forklift Operators
Even certified forklift operators run the risk of injuries. Forklifts, which usually weigh around 9000 pounds, can tip over easily if not handled properly, pinning or crushing anything close to it.
Landscapers
Those who work with weed whackers, industrial-sized lawnmowers, and electric hedge trimmers are at risk of serious injuries that may put them out of work permanently. Luckily, workers' compensation benefits are available to protect workers in this field.
Meatpacking Industry
Individuals who work in butcher shops or the meatpacking industry, in general, are at a higher risk of amputation, specifically of the fingers or hands. The sharp and heavy machines that are integral to slicing and packaging meat pose hazards for hand injuries to workers.
Truck Drivers
Truck drivers, with their long hours spent on the road and time spent moving heavy cargo, are at a high risk of injury. Things like truck accidents or the shifting weight of cargo when loading and unloading can lead to loss of limb injuries.
Moving on After a Catastrophic Injury
Individuals who have sustained injuries at work that have resulted in the partial or full amputation of a limb should be aware of their options. While it is no doubt an uncertain time for an individual, they should know that benefits exist. workers' compensation can help individuals with catastrophic injuries collect the compensation they and their families need.
Philadelphia workers' compensation lawyers of Gross & Kenny, LLP Help Those with Amputation Injuries
If you or a loved one has suffered from a catastrophic injury at work that has resulted in the loss of a limb, contact the Philadelphia workers' compensation lawyers of Gross & Kenny, LLP. Our highly skilled and compassionate legal team will help you file for the benefits you and your family deserve. Furthermore, our resolute lawyers will work to appeal your claim should it be denied the first time, allowing you to focus on your recovery. Do not hesitate. Contact us online or call our Philadelphia offices at 215-512-1500 to schedule your free consultation with our legal team. Attorneys Jeffrey S. Gross and Patrick W. Kenny provide legal counsel for individuals in the greater Philadelphia area.