Workplace Back Injuries in Philadelphia
Back injuries such as herniated discs are the most common cause of work-related disability. Unfortunately, many workers don't receive the benefits they need because their workers' compensation insurance carrier or employer has mischaracterized the injury as a less serious back sprain or strain.
Don't be fooled, as many injured workers are, into simply accepting a diagnosis of your back injury that does not seem right and which may ultimately jeopardize your eligibility for workers' compensation benefits. Attorneys Jeffrey S. Gross and Patrick W. Kenny have focused exclusively on representing injured workers in Phildelphia, Bustleton, and South Philadelphia for more than 20 years. If you have suffered a back injury on the job, we offer a free initial consultation to discuss your case. Call Gross & Kenny, LLP today to discuss workplace back injuries in Philadelphia with a seasoned legal advocate.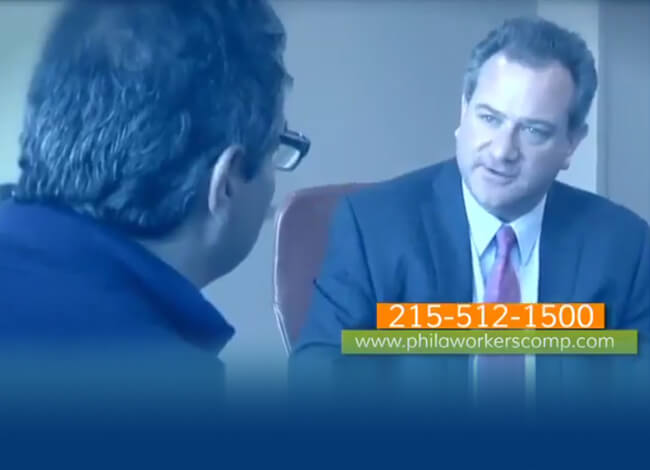 Watch our video to learn more about our firm
Common Types Of Workplace Back Injuries In Philadelphia
Some serious workplace back injuries our Philadelphia attorneys handle include:
Aggravation of pre-existing back conditions
Bulging or protruding discs
Dislocated vertebrae
Herniated discs
Nerve impingement
Time Frame For Filing Claim For A Workplace Back Injury
Work injury victims need to be aware that they have a limited amount of time to file claims for their back injuries that occur on the job. Ideally, work injuries will be reported almost immediately to a supervisor or the employer. However, in the event a work injury is not reported right away, Bustleton workers have 120 days to let their employer know that the injury has occurred.
Even after a worker reports their injury, this does not mean that they have to file a workers' compensation claim right away. There is an overall work injury statute of limitations reporting a deadline of three years. If a work injury victim fails to file a workers' compensation claim within this three-year timeframe, they will lose the ability to recover the compensation they need. We also want you to understand that if you do not make the initial report within 120 days of the injury occur in, this overall statute of limitations is irrelevant.
If you sustain a back injury in the workplace, you need to contact a skilled Philadelphia attorney who can make sure that your claim is filed on time within the respective reporting deadlines.
Types Of Compensation Available For A Back Injury That Happened At Work
Any person who sustains a back injury at work in or around the Philadelphia area may be entitled to various types of compensation for their losses. The workers' compensation system in Pennsylvania is fairly robust, and it is considered a no-fault insurance system. This means that injury victims in Bustleton and South Philadelphia should be able to recover compensation for their losses regardless of who caused the injury in the workplace.
Amongst the types of compensation recoverable in these situations includes the following:
Complete coverage of emergency and ongoing medical costs related to the injury
Coverage of any prescription medications or medical devices that are needed
The cost of any physical therapy or rehabilitation necessary
In addition to the coverage of medical expenses caused by a back injury at work, victims will be able to recover compensation for lost wages if they cannot work while they are recovering from their injury. The workers' compensation system will pay injury victims two-thirds of their average weekly wage for a specified amount of time. If an injury victim cannot return to work, they will likely be entitled to various types of long-term disability benefits based on the level of disability they have sustained. Contact a skilled Philadelphia workplace back injury attorney today if you have any further questions about this process.
Protecting Your Rights After A Serious Back Injury
Workplace back injuries can occur over time or from a single traumatic event. As long as the injury occurred on the job or was aggravated by your work activities, it is covered by workers' compensation.
In Philadelphia, it's important to seek the assistance of an attorney as soon as you are aware of a back injury that is work-related. Our lawyers will manage every step of the workers' compensation process for you: filing paperwork, scheduling medical appointments, consulting with medical experts, and negotiating on your behalf in order to make sure that you receive the care and benefits you need. We represent clients whose injuries necessitate back fusion surgery, laminectomy surgery, discectomy surgery, and other back surgeries.
If your insurance company misdiagnoses your injury as a less serious strain or sprain, it may try to stop your treatment or benefits by claiming that the treatment you need is not related to a sprain or strain or your original injury has been resolved. If this has happened to you, our lawyers can act quickly to file a petition to change the accepted injury due to an incorrect description of that injury.