Workplace Vehicle Accidents in Philadelphia
Many workers need to drive a vehicle as part of their job. This includes truck drivers and couriers, as well as construction workers, repairmen, installation crews, and salespeople, to name a few. Workplace vehicle accidents in Philadelphia can cause injuries ranging from minor to severe depending on factors like the speed the vehicle was traveling and the other vehicle(s) involved in the accident. Some workplace accidents leave lasting damage and severe accidents can be fatal.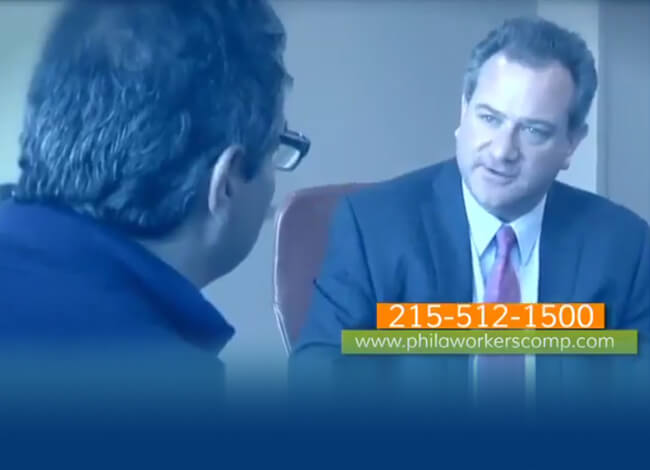 Watch our video to learnmore about our firm
Accident Outcomes
Common accident injuries include those to the head and neck, traumatic brain injury, broken bones, lacerations, spinal cord injuries, and in severe cases, amputations or disfigurement. Under the Pennsylvania Workers' Compensation Act an employer is responsible for a car accident if the employee was "on the job" when it happened.
An employee who suffers injuries in a workplace vehicle accident in Philadelphia while on the job has a right to workers' compensation benefits. These cover medical treatment, medications, transportation, and other reasonably incurred costs, as well as about two-thirds of lost wages.
Many claims for Workers' Compensation get denied because employers will dispute that an employee was on the job when the accident happened.
Defining Work-Related Vehicle Accidents
According to the Department of Labor, an employee is officially on the job when they arrive at their place of work until they leave that day. This is known as the "portal-to-portal" rule or "coming-and-going." Essentially, it means that if you have an accident on the way to or from work, your employer is not liable because you are not yet on the clock. However, there are exceptions to this rule, most notably for employees who work from home or have no fixed place of work.
Other exceptions include:
Required work that benefits your employer, but needs to be done off-site, such as a client or business meeting.
Special missions were done on behalf of your employer. This includes running errands, making deliveries, and other work tasks.
Work that is done outside of regular business hours, but falls within your job responsibilities.
Accidents that occur in the employer's parking lot are generally covered by Workers' Compensation.
Because Workers' Compensation in Philadelphia operates as a "no-fault" system, it does not matter if you caused the workplace vehicle accident. You will still be eligible for benefits.
Additional Sources of Compensation
In Pennsylvania, including South Philly and Bustleton, every auto insurance policy must carry personal injury protection coverage (PIP) of at least $5,000 per person. Some corporate auto insurance policies have much higher coverage. This coverage applies regardless of fault and workers injured in a work-related vehicle accident can apply for PIP benefits.
Pennsylvania law says that Workers' Compensation should apply first when covering the medical bills of injured workers, and then PIP benefits. In cases where auto insurance pays first, the company will seek reimbursement from the Workers' Compensation carrier.
If you are in a company vehicle and another car hits you and you are injured, you may be able to file a claim against the driver who caused the accident and your injuries. This is known as a third-party claim. Third-party claims can recover damages for pain and suffering, something not allowed by Workers' Compensation. Filing a third-party claim does not affect your application for Workers' Compensation benefits.