Philadelphia Traumatic Brain Injury Attorney
Traumatic Brain Injuries
A traumatic brain injury (TBI) is the most serious type of non-fatal workplace accident and can have a significant impact on a worker's ability to perform their job responsibilities or manage an independent lifestyle. workers' compensation benefits can cover the victim's medical bills as well as part of their lost wages. In the most severe cases, an injured worker may also be able to claim temporary or permanent disability compensation.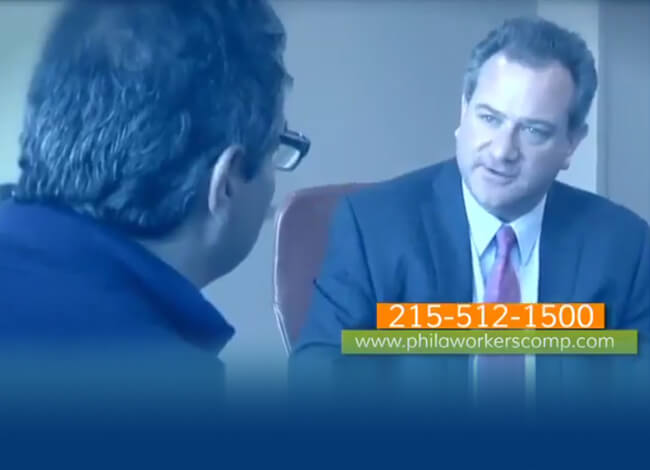 Watch our video to learn
more about our firm
The experienced team of Philadelphia workers' compensation lawyers of Gross & Kenny, LLP, have a long history of helping injured workers collect the maximum workers' compensation benefits available to them. Our lawyers are committed to helping employees who have suffered a traumatic brain injury recover the compensation they are entitled to under the law.
Types of Traumatic Brain Injuries
Motor vehicle accidents are one of the most common causes of traumatic brain injury. In a car accident, the brain can suffer injury when the impact of the crash forces the brain to hit the inside layer of the skull. In some cases, this type of impact can lead to a severe concussion, but depending upon the severity of the impact, the damage can be significant. Construction workers, truck drivers, delivery persons, cleaning services that travel to various sites, and home repair workers such as plumbers, electricians, and remodeling workers can become a victim of TBI while driving to or for their job.
The most common cause of traumatic brain injuries results from slips and falls. Uneven floor surfaces or torn carpets in offices, wet floors, poor lighting, potholes or cracked cement in parking lots or on sidewalks, as well as snow or ice-covered surfaces, can cause workers to hit their heads when they fall. workers' compensation benefits can be available to cover medical expenses that result from a brain injury such as a concussion or fractured skull.
Defective equipment can also cause a traumatic brain injury. Defective power tools, machinery, or equipment such as ladders and forklifts can result in serious workplace accidents. Brain injuries can occur when a worker's head comes into contact with high-powered machinery, power saws, jackhammers, or nail guns. Falls from defective or poorly maintained ladders and heavy loads that fall from malfunctioning forklifts can result in a serious brain injury that may permanently disable the victim.
Explosions on the job can also cause a traumatic brain injury. Explosive and combustible chemicals used in construction or industrial manufacturing can cause explosions with impacts strong enough to throw a worker against a wall or floor. In these cases, the impact of the explosive material combined with the impact of the victim's head with the ground or other hard surface can cause a severe brain injury as well as burns and amputations. workers' compensation benefits can cover the injured worker's medical bills and provide a portion of their lost wages while they recover.
Victim Impact from Traumatic Brain Injury
The impact of a traumatic brain injury can be life-changing. Any type of injury to the brain is serious, and in some cases, the damage can be so severe that the injured worker suffers cognitive deficits that prevent them from working or maintaining an independent lifestyle. In minor cases, sensitivity to light and sound, dizziness, sleep disturbances, depression, and difficulty concentrating can be temporary or permanent.
In more severe injuries, the victim can suffer problems with behavior, interpersonal relationships, communication, comprehension, problem-solving, and focusing issues. Fluid buildup in the brain, loss of consciousness, and seizures can be debilitating for the person and prevent them from working. workers' compensation benefits can cover medical expenses, lost wages, and the costs of ongoing physical and cognitive therapy.
The first priority in any situation wherein a worker suffers a head injury is to seek immediate medical attention. Once the victim is stable, it is vital to contact an experienced and reputable workers' compensation lawyer. Time is of the essence since critical evidence and witness testimony may be needed to claim the maximum workers' compensation benefits available.
Philadelphia Workers' Compensation Lawyers of Gross & Kenny, LLP Advocate for Victims of Traumatic Brain Injury
The experienced Philadelphia workers' compensation lawyers of Gross & Kenny, LLP, are dedicated to pursuing the maximum benefits available to our clients that have suffered a traumatic brain injury. Call us at 215-512-1500, or contact us online to schedule a consultation today. Our offices are conveniently located in Center City Philadelphia and we serve clients throughout Pennsylvania, and New Jersey.