Ladder Falls in Philadelphia
Ladders do not immediately come to mind as a tool that presents a risk to workers, but in fact, 20 percent of all fall injuries involve ladders. In industries like construction, any worker active six feet or more above lower levels is at risk for serious injury or fatality should they fall from their work area. Of all the construction fall injuries that had to be treated in a hospital emergency room, 81 percent involved a ladder. Ladder falls in Philadelphia are of such concern in construction that the Occupational Safety and Health Administration (OSHA) has designated falls as one of the so-called fatal four workplace accidents.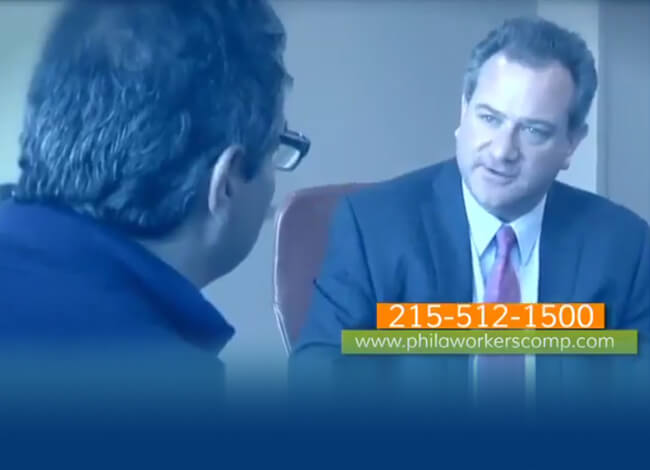 Watch our video to learnmore about our firm
Construction workers are not the only people at risk of ladder falls in South Philly, Bustleton, and Philadelphia. Ladders are a common tool used throughout many industries such as farming and agriculture, mining, manufacturing, installation, maintenance, repair, and cleaning. Even within an office setting, it is possible to suffer injuries from a ladder accident.
Common Causes of Ladder Accidents
Most ladder accidents can be attributed to one of three causes:
Using the wrong type of ladder for the job
Failure to inspect the ladder before using it
Improper use of the ladder
Choosing the right type of ladder is crucial. A metal ladder should never be used for work that is carried out near power lines. The ladder should be able to carry the proper amount of weight for the job and of course, it should be the right height. If there is uncertainty about the capacity of a ladder, it should be confirmed by a supervisor.
The ladder should be in good condition. A Bureau of Labor Statistics study found that 66 percent of ladder accident victims had never been trained in how to properly inspect a ladder for defects before using it. Before using any ladder, check to make sure all the rungs are in place and secure. Safety feet and nonslip bases should be present. If the ladder is made of wood it should be checked for cracks, splinters, and rot. A ladder in a questionable condition should be replaced by the supervisor on the job.
Employers can review the proper way to use a ladder with workers instead of assuming this is common knowledge. For instance, a major cause of ladder accidents is overreaching. Workers should always stay centered while on a ladder and not reach too far to one side or the other. The ladder also needs to be set up properly. A ladder should only be used on a level, non-slip surface. The base should be one foot away from the wall for every four feet of wall height and extend three feet beyond the top of the wall. Other important safety tips include:
Make sure that shoes are not oily or slippery before climbing a ladder.
Check that shoelaces and pant legs are not dangling or in the way.
Use two hands to climb a ladder.
Do not climb the ladder while carrying tools and equipment and do not store anything on a ladder.
Stay off the top two steps of a ladder.
Ladder Accident Injuries
A study released by the Centers for Disease Control and Prevention (CDC) characterizes ladder fall injuries as representing "a substantial health burden of preventable injuries for workers." Possible injuries from ladder falls in Philadelphia  include:
Serious ladder accidents in Bustleton and South Philly can leave workers severely disabled or can even result in fatal injuries. If you have been injured in a work-related ladder accident, it is advisable to consult with an experienced Philadelphia Workers' Compensation lawyer about your legal options.
Our Firm Can Help After a Ladder Fall in Philadelphia
You may be eligible for Workers' Compensation benefits which can provide you with compensation for medical expenses including hospital treatment and prescription medications and wage loss benefits. Families who have lost a loved one can receive death benefits. If the accident was due to a structural defect in the ladder itself, additional damages may be recovered through a third-party claim.
Contact our firm today to begin reviewing the details of your claim.