Philadelphia Neck Injury Attorney
Neck Injuries
If you have a neck injury, you are well aware of the pain you are suffering, especially if the work injury prevents you from doing your job. Unfortunately, workers' compensation doctors and insurance carriers frequently diagnose neck injuries as sprains or strains. When neck injuries are not diagnosed correctly — oftentimes due to the biased opinions of "the company doctor" — injured workers' benefits can be denied.
Philadelphia work injury lawyers, Jeffrey S. Gross and Patrick W. Kenny, along with their associates have focused exclusively on representing injured Pennsylvania workers for more than 20 years. If you have suffered a neck injury on the job, we offer a free initial consultation to discuss your case.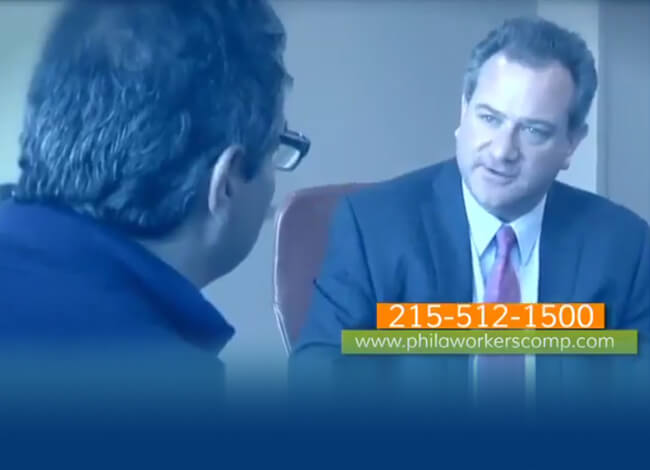 Watch our video to learn
more about our firm
You Can Choose Your Own Doctor
If you are injured at work, you are not required to use your employer's doctor. You have the right to choose your own doctor. In doing so, you can obtain an unbiased opinion from a medical professional who is not influenced by your company.
Our experienced attorneys handle serious neck and back injuries that include the following:
Acute torticollis or wryneck
Aggravation of pre-existing neck conditions
Cervical disk prolapse
Cervical fractures
Herniated disk
Nerve impingement
Spinal cord injuries and paralysis
Whiplash style injuries
The process of applying for and obtaining workers' compensation benefits can be long and confusing. Our lawyers will manage every step of the workers compensation process for you. We file paperwork, schedule medical appointments, consult with medical experts, and negotiate on your behalf to make sure that you receive the best care and the most benefits. We focus on the legal aspects of your injury so that you can concentrate on recovering from your injury.
Serious Neck Injury? Contact our Philadelphia workers' compensation lawyers of Gross & Kenny, LLP for a Free Consultation
Let our Philadelphia work injury lawyers make workers' compensation work for you. Call Gross & Kenny, LLP, at 215-512-1500 or complete our online contact form.