Maintaining Work Injury Benefit
workers' compensation applications can be a straightforward process. However, if your work injury was at all unusual or complicated if your claim was denied if your employer wants you to return to work before you are medically ready or if you are an attorney with questions about third-party claims or subrogation, consult an experienced work injury attorney of Gross & Kenny, LLP, in Philadelphia, Pennsylvania.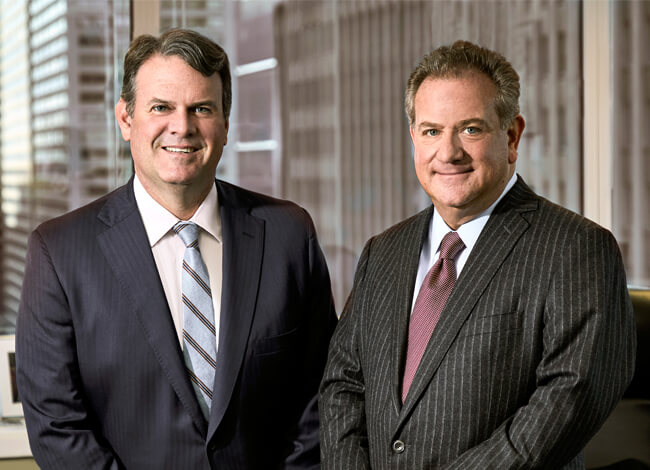 Watch our video to learn
more about our firm
For more than two decades, our Philadelphia work injury attorneys have dedicated their legal practice to a vigorous defense of the rights of workers injured on the job. We have extensive knowledge of the complex workings of workers' compensation rules and regulations, and we put all our strength and skill into maximizing the amount and time period of work injury benefits for all our clients.
We encourage you to contact our offices for a free and confidential consultation if any of the following occurs and your Workers' Compensation benefits are threatened:
If your claim has been denied, and you receive a Notice of Compensation Denial
You receive a Notice of Compensation Payable, which may be inaccurate
Your employer offers you a work accommodation that is "vocationally inappropriate" (in other words, your employer tries to force you to return to work in a job that you are under-or overqualified for)
Your employer tries to cancel or stop your benefit checks because you refuse to accept a new job posting that you are over-or underqualified for
Your employer tries to cancel your work injury benefits without first filing a Termination Petition, Modification Petition, or Suspension Petition and holding a hearing
Your employer or your employer's insurance company offers you a compromise and release settlement of your workers' compensation benefits in place of weekly payments
You are informed that you have a 500-week limitation of your Temporary Total Disability benefits as a result of an impairment rating evaluation
Claims Against Third Parties Or Third-Party Lawsuits For A Work-Related Injury
What if a third party, unrelated to your place of work, was fully or partially responsible for your workplace injury? You may still file a workers' compensation claim to get compensation from your employer for the injury. Nothing in the Pennsylvania workers' compensation act stops an employee from also filing a lawsuit against the third party for careless or reckless conduct that contributed to the accident. If you decide to make a claim against the party responsible for your accident, or you decide to sue that third party, your employer has the right to get money back for what it paid on your behalf. This complicated process is called subrogation. Jeffrey S. Gross and Patrick W. Kenny, along with their associates handle subrogation claims routinely and are experienced in mastering this complex area where personal injury law and workers' compensation law intersect. Many times a different attorney represents a claimant in the handling of the third party claim, and we are available as co-counsel in these personal injury cases to provide both short- and long-term technical assistance.
Contact Philadelphia Workplace Injury Lawyers of Gross & Kenny, LLP
Our Philadelphia work injury lawyers offer free consultations to injured workers in Pennsylvania. Call Gross & Kenny, LLP, at 215-512-1500 or contact us online for a prompt response.