Philadelphia Workplace Slip Fall Accident Attorney
Slip and Fall Accidents at Work
Slip-and-fall accidents in the workplace can result in serious injuries such as broken bones, torn ligaments, and head injuries. Unfortunately, many employers and Workers' Compensation carriers do not take these accidents seriously. It may take a lawyer's help to ensure that you receive the medical care and therapy you need to heal fully.
For more than 20 years, Philadelphia Workers' Compensation lawyer, Jeffrey S. Gross and Patrick W. Kenny have represented injured workers in all types of on-the-job accidents, including slip and falls. Contact our highly skilled and knowledgeable Philadelphia workplace accident lawyers today for a free initial consultation about your case.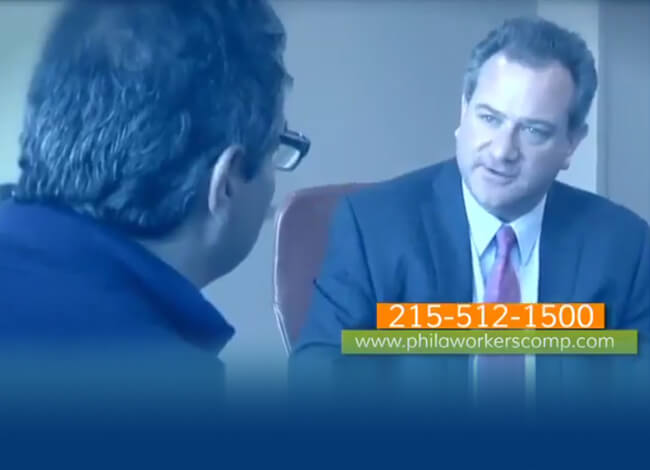 Watch our video to learn
more about our firm
Slip-And-Fall Accidents In The Workplace
Workers' compensation is a no-fault compensation program, which means that it pays benefits regardless of who was at fault. You do not have to prove that another person was negligent in creating the property condition that caused you to slip and fall to receive benefits such as medical care and disability payments.
If your employer has denied your claim for benefits or stopped your benefits before you feel ready to return to work, contact our lawyers as soon as possible. We will work to reinstate your benefits as quickly as possible.
Can I Sue My Employer?
Sometimes slip-and-fall accidents are caused by negligent property conditions, such as wet or slippery floors, spills, loose carpeting, uneven steps, or other defects. While employers are generally protected from being sued by employees for injuries, third-parties are not. Examples of third parties in slip-and-fall accident cases include property owners (if different from the employer) and contractors responsible for maintaining the property.
Contact our Workers' Compensation Lawyers in Philadelphia of Gross & Kenny, LLP
Our dedicated Workers' Compensation lawyers in Philadelphia are ready and available to answer any questions you may have about your right to receive full compensation after a slip-and-fall accident at work. Contact us online today or call Gross & Kenny, LLP, at 215-512-1500 to schedule a free consultation.