Philadelphia Repetitive Stress Injury Attorney
Repetitive Stress Injuries
Individuals who spend hours a day typing on a computer, who lift or move boxes daily, or who perform repetitive tasks as part of their employment are at risk for repetitive stress injuries. These individuals could eventually suffer from a continued injury or insult to your body caused by working repetitive job duties that compound on themselves and creates a situation where you are unable to continue working. This kind of problem is compensable under the Pennsylvania workers' compensation act, and you may therefore be entitled to benefits as a result. These cases may also be characterized as Cumulative Trauma Injury Claims.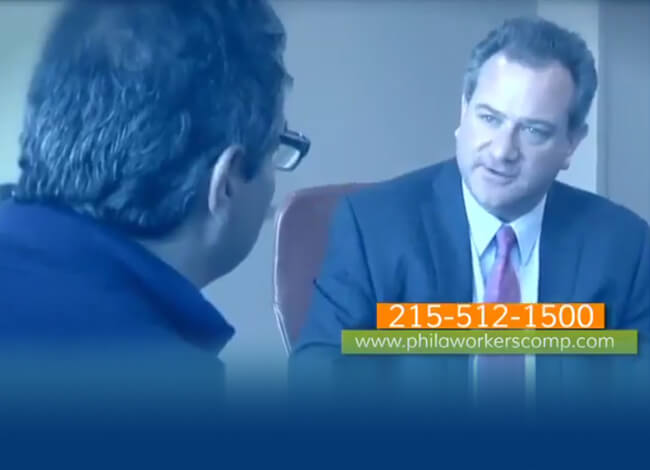 Watch our video to learn
more about our firm
Experienced Attorneys For Injured Pennsylvania Workers
For a free consultation about what repetitive stress injury claims are and what needs to be done to pursue workers' compensation benefits for those injuries, call our experienced work injury lawyers at 215-512-1500 or contact us online.
Philadelphia workers' compensation lawyers, Jeffrey S. Gross and Patrick W. Kenny, along with their associates have focused exclusively on representing injured Pennsylvania workers for more than 20 years.
A wide range of injuries and conditions have been associated with work-related repetitive stress, including:
Aggravation of pre-existing conditions
Chronic joint strain
Chronic neck and back pain
Fibromyalgia
Herniated discs
Nerve root impingement
Reflex sympathetic dystrophy/complex regional pain syndrome
Shoulder and rotator cuff injuries
Tendonitis
A repetitive stress injury is caused in the same way as an occupational illness or disease – it develops over time from continued exposure to working duties or conditions. People generally receive this diagnosis from their primary physician or from a specialist. If you have been diagnosed with a repetitive stress injury or an aggravation of a pre-existing condition and suspect that it is related to your job, it is vital to notify your employer immediately. In fact, the sooner you notify them of your diagnosis, the better. If you fail to notify your employer within 120 days of learning of the causation to your work conditions, you may lose your entitlement to benefits. It is important to speak with a lawyer, as soon as you learn of this condition and its relatedness to work, who has experience with repetitive stress injury claims. There are time limitations associated with these claims. Our lawyers have the experience and know-how to legally establish the critical link between your injury and the work that you do for your employer. This can be a difficult task in Repetitive Stress Injury or Cumulative Trauma Injury cases and is an area where our experience can be invaluable.
Repetitive Stress Injury? Contact the Philadelphia Workers' Compensation Lawyers of Gross & Kenny, LLP for a Free Consultation
If you have other questions about repetitive stress injuries or cumulative trauma injuries, the rights you have, and the benefits available to you under the Pennsylvania workers' compensation act, call Gross & Kenny, LLP, at 215-512-1500 or complete our online contact form. Initial consultations with our work injury lawyers in Philadelphia are free, confidential, and available at mutually convenient times and places. We do not get paid unless you get paid.