Workers' Compensation Laws in Pennsylvania
Suffering a work-related injury in Pennsylvania is no doubt a life-changing experience for workers and their family members. The costly medical bills and time spent out of work can have a significant financial impact, as can losing a family member who was a primary earner.
While no amount of money can heal a workplace injury or make up for the loss of a loved one, benefits do exist to help those who qualify. The Pennsylvania Workers' Compensation Act provides medical coverage, wage loss benefits, and death benefits for injured workers in Pennsylvania.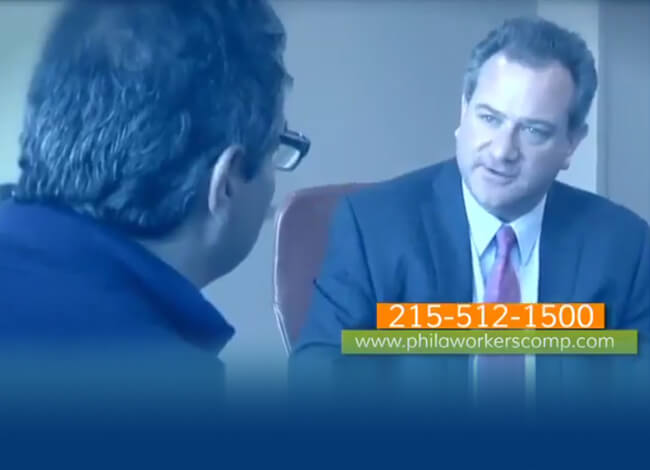 Watch our video to learn
more about our firm
Nearly every single worker in Pennsylvania is protected under the Act; seasonal workers, part-time workers, nonprofit workers, and even employers with just one employee are all covered under Workers' Compensation laws. Furthermore, employees who may not be insured may be eligible for benefits under the Uninsured Employer Guaranty Fund.
Additionally, employees in certain industries may be eligible for compensation for laws outside of the Pennsylvania Workers' Compensation Act. These include federal civilian employees, railroad workers, and stevedores.
How is a Worker Covered?
Workers' Compensation covers employees who sustain an injury or illness while performing their assigned job duties. If the injury or death was self-inflicted, or if the employee was breaking state or federal law during their injury (e.g., being under the influence of illegal substances), then they may not qualify for benefits.
How to Claim Benefits
If injured, an employee should promptly report it to the employer and seek medical attention. If it should be discovered that there was a significant gap in time between the injury and treatment, the claim becomes less viable. Additionally, if the employee never notifies their employer, then their Workers' Compensation claim may be denied.
If an employer denied an employee's claim to collect Workers' Compensation benefits, then the employee can appeal the decision. It is recommended that they do this with the counsel of an experienced work injury lawyer to ensure the success of the appeal.
Timeframes for Work-Related Illnesses
The Act covers occupational diseases if they were caused or exacerbated by employment. The worker's disability must occur within 300 weeks since their last exposure to any hazard.
Claims for respiratory diseases generally come from workers who were exposed to silica, coal, or asbestos. Individuals who suffer from respiratory diseases must have worked in the industry for at least two years in Pennsylvania. A disability claim must come within 10 years of a worker's exposure.
Total Disability
Workers who have total disability benefits under Workers' Compensation are considered to be disabled and are therefore unable to work. After 104 weeks pass, the employer and their insurer can require a medical examination to determine if the employee is at least 50 percent recovered. If it should be determined that the employee is healed significantly, then their status may be changed to partial disability.
Partial Disability
Partial disability benefits are set for a maximum of 500 weeks. These benefits are reserved for workers who can continue working, albeit in a lower-paying job with work-related restrictions.
While on the partial disability status, if a medical professional finds that the worker's condition has worsened beyond 50 percent, then the worker may be eligible for total disability benefits.
Philadelphia Workers' Compensation Lawyers of Gross & Kenny, LLP Advocate for Injured Workers
If you have been injured at work in Pennsylvania, or have lost a family member in a work accident, then you are urged to contact the Philadelphia Workers' Compensation lawyers of Gross & Kenny, LLP. Call our Philadelphia offices at 215-512-1500, or contact us online to schedule your complimentary consultation with our legal team.