Philadelphia Manufacturing Accident Attorney
Manufacturing Accidents
Manufacturing requires operating large pieces of complicated equipment and heavy machinery, which exposes workers to risks of accidents if proper precautions are not taken. Manufacturing accidents can cause serious injuries and workers can also experience chemical exposure if the manufacturing plant contains hazardous materials.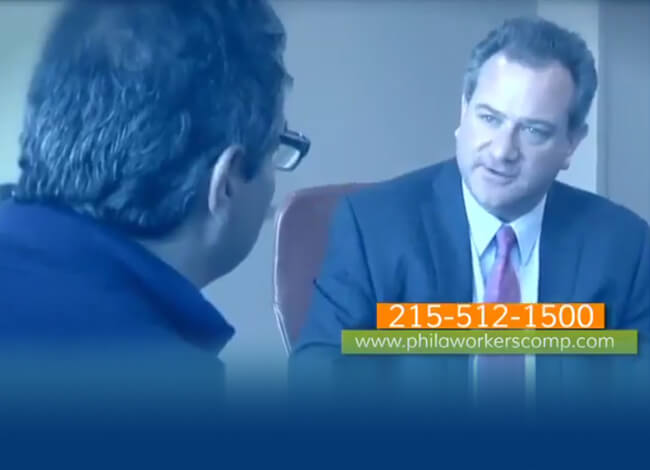 Watch our video to learn
more about our firm
Injuries
According to the Bureau of Labor Statistics, high rates of injury exist within the manufacturing industries that produce travel trailers and campers, mobile homes, prefab wood buildings, and truck trailers. Of course, accidents can occur at any kind of manufacturing facility. The following are common causes of manufacturing accidents and some of the typical injuries suffered by workers.
Caught in/between accidents: In this kind of accident, a worker becomes caught in moving machinery or pinned between a moving vehicle and a stationary object. If the worker is pulled into moving equipment injuries can include lacerations, loss of limbs, scalping, or degloving. A worker pinned by a moving vehicle can suffer damage to internal organs, internal bruising and bleeding, broken bones, and other crushing injuries.
Chemical exposure: Some manufacturers use or store toxic chemicals and other hazardous materials involved in their production. If a manufacturing facility has an accident resulting in the release of a toxic chemical substance, workers can be exposed to carcinogens or suffer burns. They can also develop complications such as asthma, lung disease, and cancer.
Repetitive motion/overexertion: Workers whose jobs require them to do the same task repeatedly may develop repetitive stress injuries such as carpal tunnel syndrome or other occupational illnesses. Workers in the sewing and textile industries are at similar risk.
Slip and fall accidents: Slip and falls are common accidents that occur when work areas are not kept clean or tools and other equipment are not stored away properly. A slip and fall can result in a concussion or other form of TBI, back and neck injuries, bone fractures, or sprains and strains to feet, ankles, hands, or wrists
Struck by object accidents: Workers in manufacturing facilities can sustain injuries when they are struck by objects that fall from overhead conveyor belts, fork lifts, or from work areas situated above them. Injuries from struck-by accidents include traumatic brain injury (TBI) or back and neck injuries.
Preventing Accidents
Many manufacturing accidents are preventable and employers have a responsibility to maintain a safe environment for their workers. This includes:
Making sure that hazardous equipment is protected with guards at pinch points, crush points and wrap points.
Providing workers with appropriate personal protective equipment.
Training workers in the hazards of the machinery they operate and how to properly use the safety guards and equipment for their jobs.
Maintaining all equipment and machinery so that it is always in good working order. Employing lockout and tag out procedures during maintenance.
Good housekeeping practices to eliminate slip and fall hazards.
Workers' Compensation Claims
If you have been injured on the job in a manufacturing accident you may be eligible for Workers' Compensation benefits. A successful claim can provide you with compensation for:
Death benefits – for families of workers who suffer a fatal accident
Medical treatment – including hospital stays, prescription medications, supplies, orthopedic appliances, and prostheses
Specific loss benefits – for loss of permanent use of all or part of a leg, foot, toe, thumb, finger, arm, hand, sight, or hearing. Or for serious or permanent disfigurement of the head, neck, or face
Wage loss benefits – temporary or permanent disability
Philadelphia Work Accident Lawyers of Gross & Kenny, LLP Help Workers Injured in Manufacturing Accidents
All Pennsylvania employers are required to have Workers' Compensation insurance. If you have been injured on the job the Philadelphia Work Accident lawyers of Gross & Kenny, LLP, will make sure you receive the maximum compensation allowable for your case. Call us today at 215-512-1500 to schedule a free and confidential consultation in our Center City offices. You can also use our online contact form.